A customer asked about the wave line on a popular kitchen knife,
"Tojiro DP Cobalt Alloy 3 Layers Chef Knife(Gyuto) 210mm"
"Hi there, I've got the knife. awesome sharpness, love it.
Just one thing bothers me – there are two scratches on both sides each of the blade along all way along the cutting edge. I am not sure what is it.
Is it a defect?"




As you know, the lines are not a kind of defect but necessary lines on 3 Layer Kitchen knife.
The wave lines are called "hamon", boundary lines between the core and sandwich layers on both side of the knife.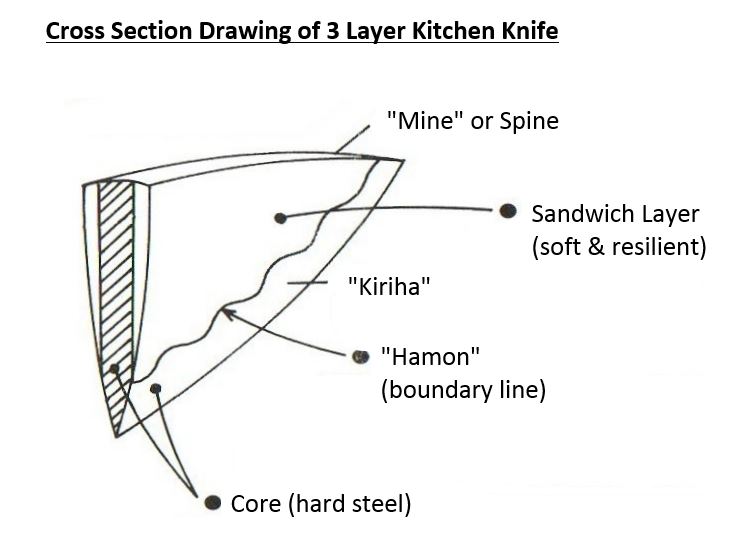 The hamon is beautiful and unique one by one knife, made by harmony of two different materials.

Generally, many of middle and high class Japanese kitchen knives clearly show their relation to the Samurai sword. The blades are forged traditionally in multiple layers, with an inner core of hard but brittle steel, forgewelded with a thick layer of soft and more ductile steel sandwiched around the core so that the hard steel is exposed just at the cutting edge. Only this elaborate procedure ensures an optimum synthesis of breaking strength and ultimate sharpness.
Is this article helpful for you? 

if you have any question about this article, please feel free to contact us.
Thank you and best regards,
All the Hocho-Knife staff
~~~~~~~~~~~~~~~~~~~~~~~~~~~~~~~~~~~~~~~~~~~~~~~~~~~~~~~~~~~~~~~~~~
"Hocho" represents Made-in-Japan (Sushi / Sashimi) Kitchen Knives,
that is the soul of the cook!
~~~~~~~~~~~~~~~~~~~~~~~~~~~~~~~~~~~~~~~~~~~~~~~~~~~~~~~~~~~~~~~~~~
mport Japan.com,Inc.
Florida, USA
Kyoto and Hyogo, JAPAN