A demonstration of manual dexterity by slicing up a large tuna was successfully held for members of the international media who arrived ahead of the Ise-Shima Group of Seven summit, at Mie prefecture in JAPAN.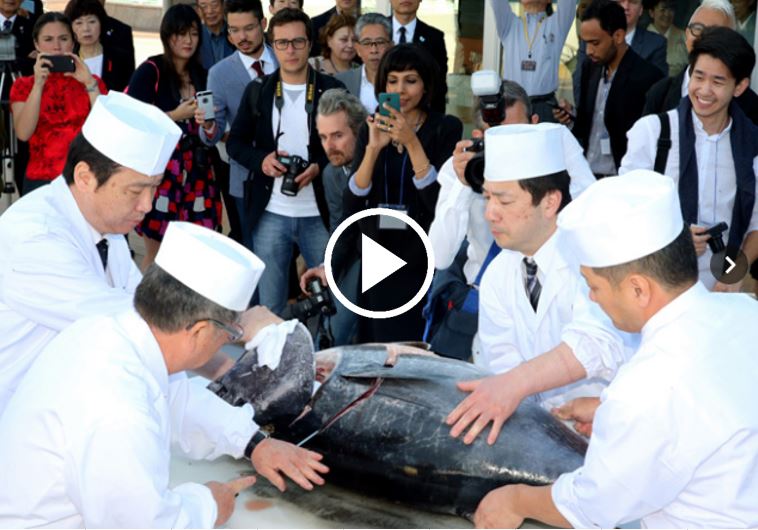 Twenty journalists from 12 nations and regions were invited to the Toba Marche fish and produce market, only a stone's throw from the summit venue in Shima, for a tour to check out local produce on May 18. The tour culminated with a dinner featuring local seafood.
The tour and feast were hosted by a group led by the Toba city government, which was organized to promote local delicacies and cuisine to coincide with the G-7 summit, which will be held May 26-27.
Zachi Brewster, a 24-year-old journalist from Britain, said she was impressed with the skills of the fishmongers and how they treated the fish with care. Brewster said it was her first trip to Japan, and that she is planning to write a story about the Toba Marche market for a news website.


Is the article interesting?
If you have any question, request and advice, please feel free to contact us.
Thank you and best regards !
All the Hocho-Knife staff
~~~~~~~~~~~~~~~~~~~~~~~~~~~~~~~~~~~~~~~~~~~~~~~~~~~~~~~~~~~~~~~~~~
"Hocho" represents Made-in-Japan (Sushi / Sashimi) Kitchen Knives,
that is the soul of the cook!
~~~~~~~~~~~~~~~~~~~~~~~~~~~~~~~~~~~~~~~~~~~~~~~~~~~~~~~~~~~~~~~~~~
mport Japan.com,Inc.
Florida, USA
Kyoto and Hyogo, JAPAN