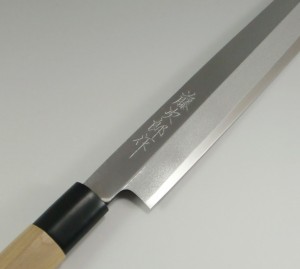 Originally, all Japanese kitchen knives – Hocho – clearly show their relation to the Samurai sword. The blades are forged traditionally in multiple layers, with an inner core of hard and brittle carbon steel, forgewelded with a thick layer of soft and more ductile iron steel sandwiched around the core so that the hard steel is exposed only at the cutting edge.
Only this elaborate procedure ensures an optimum synthesis of breaking strength and ultimate sharpness.

The shape of these knives has developed solely from their intended purpose, which gives them an aesthetic quality not remotely influenced by fashion trends. The light wooden handles, the well-balanced design and the extraordinary sharpness make using Hocho a remarkable experience.
Nowadays stainless steel is often used for Japanese kitchen knives, and multi-layer laminated blade construction (so-called "Damascus") is used in more expensive blades to add corrosion resistance while maintaining strength and durability.
Is the article useful for you? Please give
us
your kind advice.
Visit the
Hocho-Knife online shop
for Made-in-Japan Kitchen Knives.
We'll help you to looking for the best knife.

Thank you for reading and best regards!
All the Hocho-Knife staff
~~~~~~~~~~~~~~~~~~~~~~~~~~~~~~~~~~~~~~~~~~~~~~~~~~~~~~~~~~~~~~~~~~~~~
"Hocho" represents Made-in-Japan (Sushi / Sashimi) Kitchen Knives,
that is the soul of the cook!
~~~~~~~~~~~~~~~~~~~~~~~~~~~~~~~~~~~~~~~~~~~~~~~~~~~~~~~~~~~~~~~~~~~~~
mport Japan.com,Inc.
Florida, USA
Kyoto and Hyogo, JAPAN