"Hocho" is the word that represents kitchen knives in Japanese. The Hocho is thought the most important tool for professional and amateur cooks.
Japan has developed the aesthetics of food preparation like no other country, with the Hocho.
Using the Hocho, the chef celebrates the art of cutting, which makes the preparation of fine fish and delicate vegetables a feast for the eyes. The razorsharp cut doesn't crush the cells, the juice is retained, and the natural flavour of the foods comes into its own.
Much high-quality Japanese knives originates from Sakai in Osaka, Japan, the capital of samurai sword manufacturing since the 14th century.The Sakai knives industry started in the 16th century and nowadays enhanced its reputation for quality worldwide.
In the high-end series for professional use, the Japanese-style kitchen knives are generally said still have better sharpness than the Western-style ones because of the better combination of production method, structure and materials, and are indispensable existence in the Japanese-style dish which requires delicate handling and razor-sharpness for especially slicing raw fish for Sashimi and Sushi in which a cutting end surface divides superiority or inferiority.
The representative production areas of Traditional Japanese Kitchen Knives are Sakai (Osaka), Seki (Gifu), Tsubame/Sanjyo (Niigata), Sabae & Takefu (Echizen, Fukui), Miki (Banshu, Hyogo) and Tosa (Kochi). It is said that around 90% of the professional Japanese-style-food chefs in Japan use the knives made in Sakai.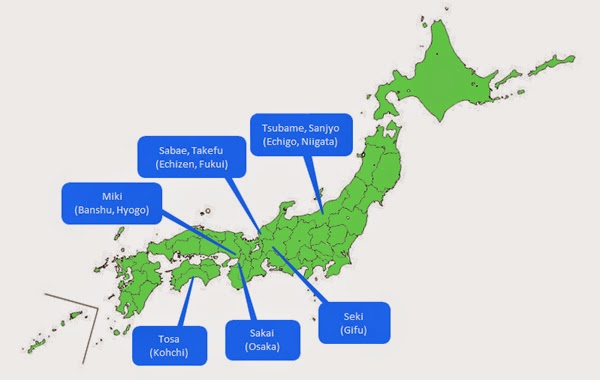 Is the article helpful for you?
You're welcome to visit our Hocho-Knife online store any time.
Thank you and best regards !
All the Hocho-Knife staff
~~~~~~~~~~~~~~~~~~~~~~~~~~~~~~~~~~~~~~~~~~~~~~~~~~~~~~~~~~~~~~~~~~~~~
"Hocho" represents Made-in-Japan (Sushi / Sashimi) Kitchen Knives,
that is the soul of the cook!
~~~~~~~~~~~~~~~~~~~~~~~~~~~~~~~~~~~~~~~~~~~~~~~~~~~~~~~~~~~~~~~~~~~~~
mport Japan.com,Inc.
Florida, USA
Kyoto and Hyogo, JAPAN