A customer gave us a complaint about a kind of rust on a kitchen knife,
"Dear sir, I bought this knife from you and just started using it today to cut some mangoes.
I was very surprised to see that the blade discolored (see pictures) and there was a grey liquid coming out.
I tried using another knife to cut the same mango but there was no grey stain and the knife did not discolor.
Thank you. "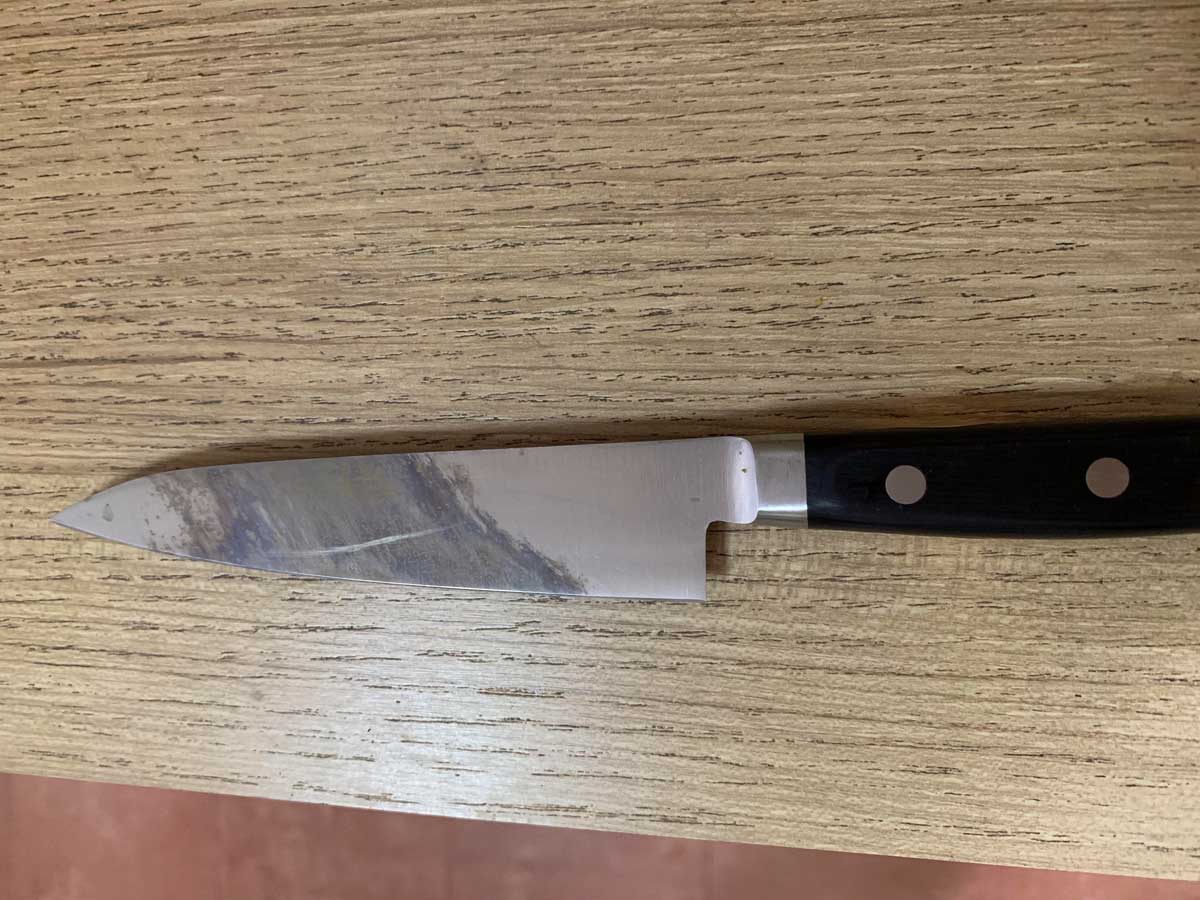 We fully understood his feeling and surprise of course,
and replied to him as follows because there was an important thing to let him know.
———-
Dear customer,
Thank you for your message.
As you may realize, steel can rust easily, but especially carbon steel knives may change color depending on the ingredients being cut.
(Your purchasing knife is made of high carbon steel, not stainless steel).
The cause is mainly due to fish and meat fat, fruit juice and vegetable ash.
Fatty fish and meat, vegetables with strong lye and acidic and alkaline fruits have the effect of promoting discoloration.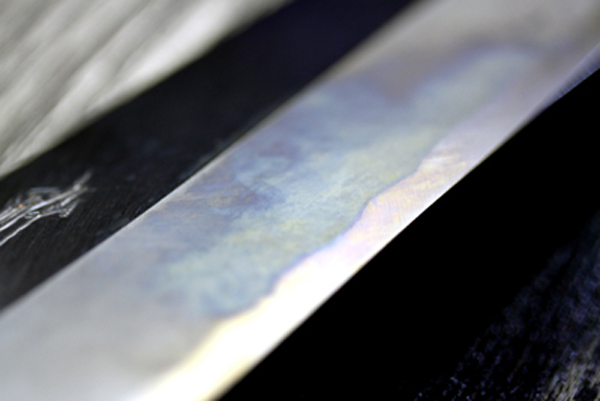 Discoloration test by cutting onion and apple [1]

There may be many people who believe it's rusted, but the surface of the steel is chemically changed with the fat and lye that the food has.
You may feel that the color has changed even though you took care and store it appropriately (we believe so).
If it rusts just after cutting, you may have been able to take it care carefully, but it changed color after a while, so you might have felt "defective".
Since mango is alkaline, it should be noted that it is possible to act on rusty iron and cause discoloration (some people refer to rust/discoloration in a broad sense as black rust).
To prevent this, a stainless steel knife is recommended.
Appreciate your interest in the maintenance of purchased knife.
—————
Reference : [1] 2011.3 About discoloring on knife blade

The following knowledge is believed helpful for such an above issue.
https://blog.hocho-knife.com/knife-sharpening/how-to-remove-rust-on-blade

If you have any question, please feel free to contact us anytime.
Thank you for reading and best regards!
All the Hocho-Knife staff
~~~~~~~~~~~~~~~~~~~~~~~~~~~~~~~~~~~~~~~~~~~~~~~~~~~~~~~~~~~~~~~~~~
"Hocho" represents Made-in-Japan (Sushi / Sashimi) Kitchen Knives,
that is the soul of the cook!
~~~~~~~~~~~~~~~~~~~~~~~~~~~~~~~~~~~~~~~~~~~~~~~~~~~~~~~~~~~~~~~~~~
mport Japan.com,Inc.
Florida, USA
Kyoto and Hyogo, JAPAN