Tamahagane Kyoto Damascus Stainless Knife series are quite high quality, extremely sharp, hard, and durable for professional use. The 63 Layers Damascus and it's beautiful figure must impress you by the details of it's well calculated, meticulous design.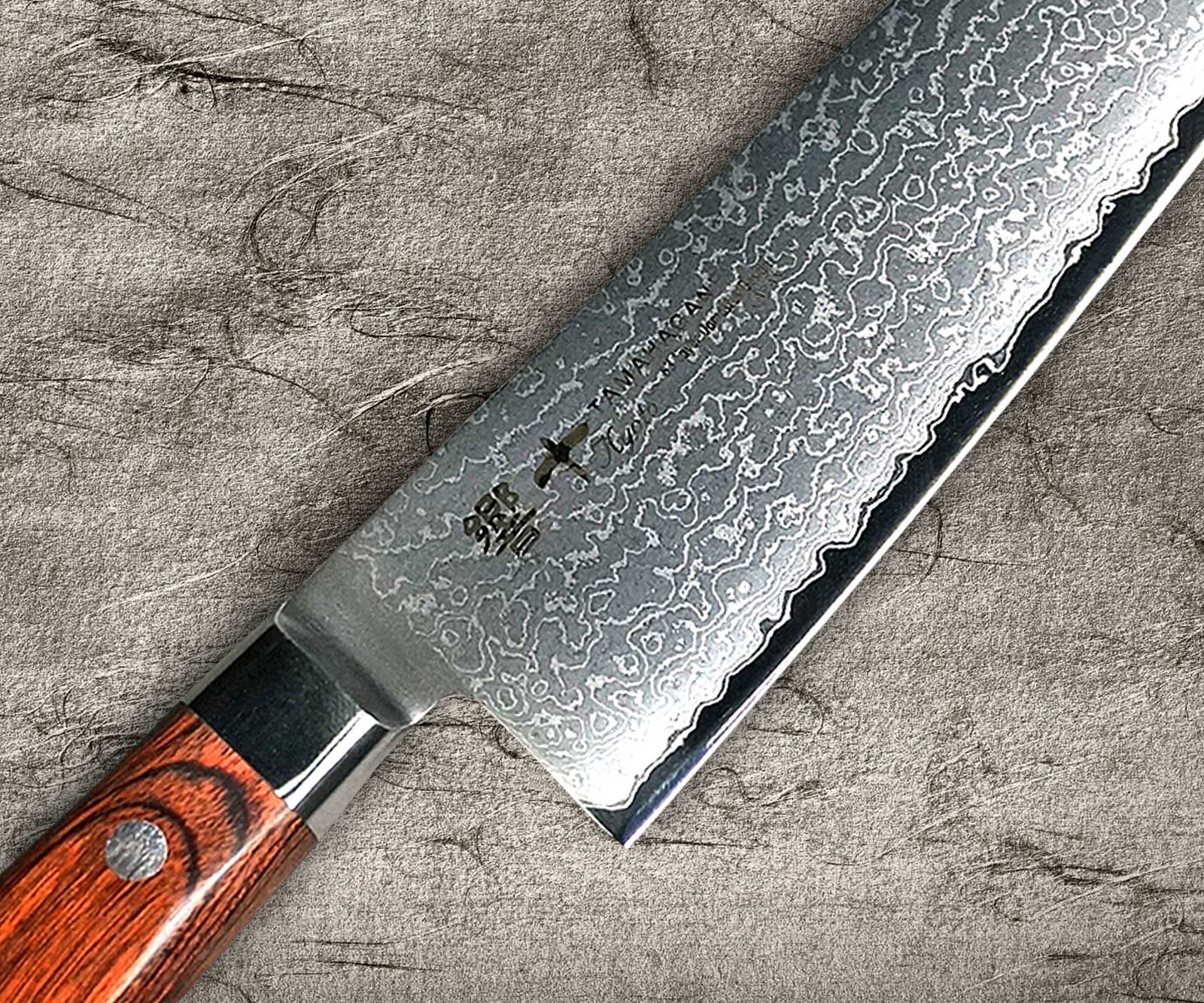 The Core layer is VG-5, High Carbon Molybdenum Vanadium Steel, is enveloped by 31 layers of SUS410 (13 Chrome Stainless Steel) on one side with soft and hard stainless steel. The powdered steel contains a lot of carbon and has an unprecedented hardness of approximately 61 Rockwell.


Tamahagane Kyoto series are distinctive yet classic while fitting very comfortably in your hand. The edge of the blade is hand-finished (fine-grinded by hand) one by one with waterstones. The beveled edge features an angle between 14 and 15 degrees. Features an incredible mirror polish finish with perfect balance between sharpness and strength.


If you have any question, please feel free to contact us anytime.
Thank you for reading and best regards!
All the Hocho-Knife staff
~~~~~~~~~~~~~~~~~~~~~~~~~~~~~~~~~~~~~~~~~~~~~~~~~~~~~~~~~~~~~~~~~~
"Hocho" represents Made-in-Japan (Sushi / Sashimi) Kitchen Knives,
that is the soul of the cook!
~~~~~~~~~~~~~~~~~~~~~~~~~~~~~~~~~~~~~~~~~~~~~~~~~~~~~~~~~~~~~~~~~~
mport Japan.com,Inc.
Florida, USA
Kyoto and Hyogo, JAPAN