Yoshimi Kato Aogami Super Clad Stainless Kurouchi series feature beautiful KUROUCHI(Black finished) texture with a core of Blue Paper Super (Aogami Super) Steel with a better hardness of approx.65 HRC, which provides excellent edge retention.
The edge is specially formed like a clam (or HAMAGURI in Japanese), which shape helps release foods and cut smoothly.

Aogami Super Kurouchi with Japanese-Style Handle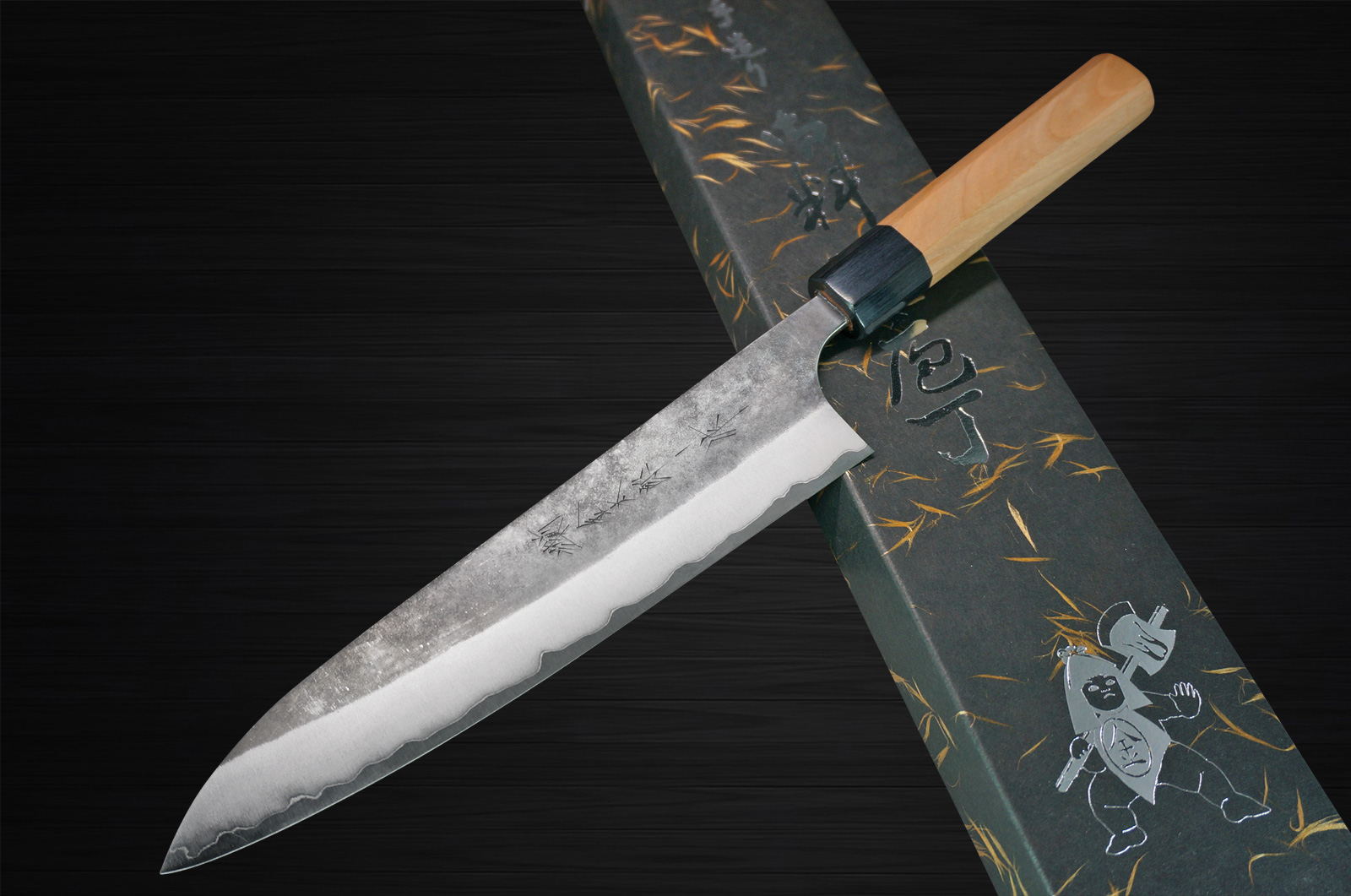 Mr. Yoshimi Kato, one of the most promising blacksmiths, received the certification of the traditional craftsmen on February 2008 and took over his father's company as KATO UCHI HAMONO (KATO Knife Manufacturing Inc.) at Takefu city, Fukui in 2018.
His father, Mr. Kintaro Kato started kitchen knife production in 1928 and founded his company KANEHIRO UCHI HAMONO in 1958. He was awarded the Order of the Sacred Treasure, Silver Rays in 1987.

If you have any question, please feel free to contact us anytime.
Thank you for reading and best regards!
All the Hocho-Knife staff
~~~~~~~~~~~~~~~~~~~~~~~~~~~~~~~~~~~~~~~~~~~~~~~~~~~~~~~~~~~~~~~~~~
"Hocho" represents Made-in-Japan (Sushi / Sashimi) Kitchen Knives,
that is the soul of the cook!
~~~~~~~~~~~~~~~~~~~~~~~~~~~~~~~~~~~~~~~~~~~~~~~~~~~~~~~~~~~~~~~~~~
mport Japan.com,Inc.
Florida, USA
Kyoto and Hyogo, JAPAN