You know, Sakai is well-known as the representative production area of Traditional Japanese Kitchen Knives, that is located in Osaka prefecture next to Kyoto. "Sakai Takayuki" Knives have been cultivated through a long 600-year history in Sakai.
 
 
The Takayuki produces some of the Stylish Damascus blades as we briefly introduced in a past blog. This time, more details are specially described in the following.
 
First, one of the popular line, 33-Layer VG10 Damascus Hammered Knife Series.
The 33-layer Damascus Knives are crafted out of a 33 layer VG10 damascus steel, upper grade than 17 layer version. These knives have a seriously sharp edge, extremely hard (HRC: 60), excellent edge retention and a light center balanced feel.
The Hammered design adds beautiful textures to the blade, and accentuates the Damascus pattern.
The handles on these knives are hand crafted out of Mahogany wood, which is water resistant and beautifully grained.
Each knife is hand sharpened to ensure maximum sharpness out of the box. We highly recommend you to once experience the excellent performance and beautility of the Damascus knives.
~~ Customer Review ~~
I can't believe I've gone this long without a knife of this quality. It literally makes me a better Chef. I can work more efficiently with the long blade and am able to slice just the amount of product i desire. This translates into cost savings through more accurate portioning. Spend the money, you'll be glad you did!I find it's performance to equal knives of much greater cost. 🙂
>> Go to check the 33-Layer VG10 Damascus Hammered Series.
 
The shape of the Kiritsuke YANAGIBA(SASHIMI) comes from a traditional Sword style that cuts effectively for slicing fish and is used to make Sashimi and Sushi. The long blade is single-edged just like Japanese hocho, while the handle is designed for Western demands. The combination of the blade and handle overcomes the longtime difficult demands of many professional chefs.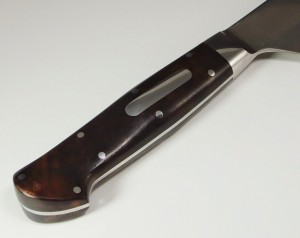 The stylish handle of this model is hand-crafted out of desert ironwood, which is water resistant and beautifully grained.
The Kiritsuke Yanagiba by "Sakai Takayuki" is one of the best answers, which skillfully incorporates the beauty of Japanese Hocho and Western Knives.
 
>> Go to check the Grand Chef  Kiritsuke SP1 Series.
 


Thank you for reading and best regards!
All the Hocho-Knife staff
~~~~~~~~~~~~~~~~~~~~~~~~~~~~~~~~~~~~~~~~~~~~~~~~~~~~~~~~~~~~~~~~~~~~~
"Hocho" represents Made-in-Japan (Sushi / Sashimi) Kitchen Knives,
that is the soul of the cook!
~~~~~~~~~~~~~~~~~~~~~~~~~~~~~~~~~~~~~~~~~~~~~~~~~~~~~~~~~~~~~~~~~~~~~
mport Japan.com,Inc.
Florida, USA
Kyoto and Hyogo, JAPAN