Takayuki Iwai Aogami Super Clad Stainless Kurouchi series feature beautiful KUROUCHI(Black finished) texture with a core of Blue Paper Super (Aogami Super) Steel with a better hardness of approx.65 HRC, which provides excellent edge retention.




This series is forged by skilled blacksmiths, Takeshi and Takayuki Iwai with unique traditional hand-made-process of making knives.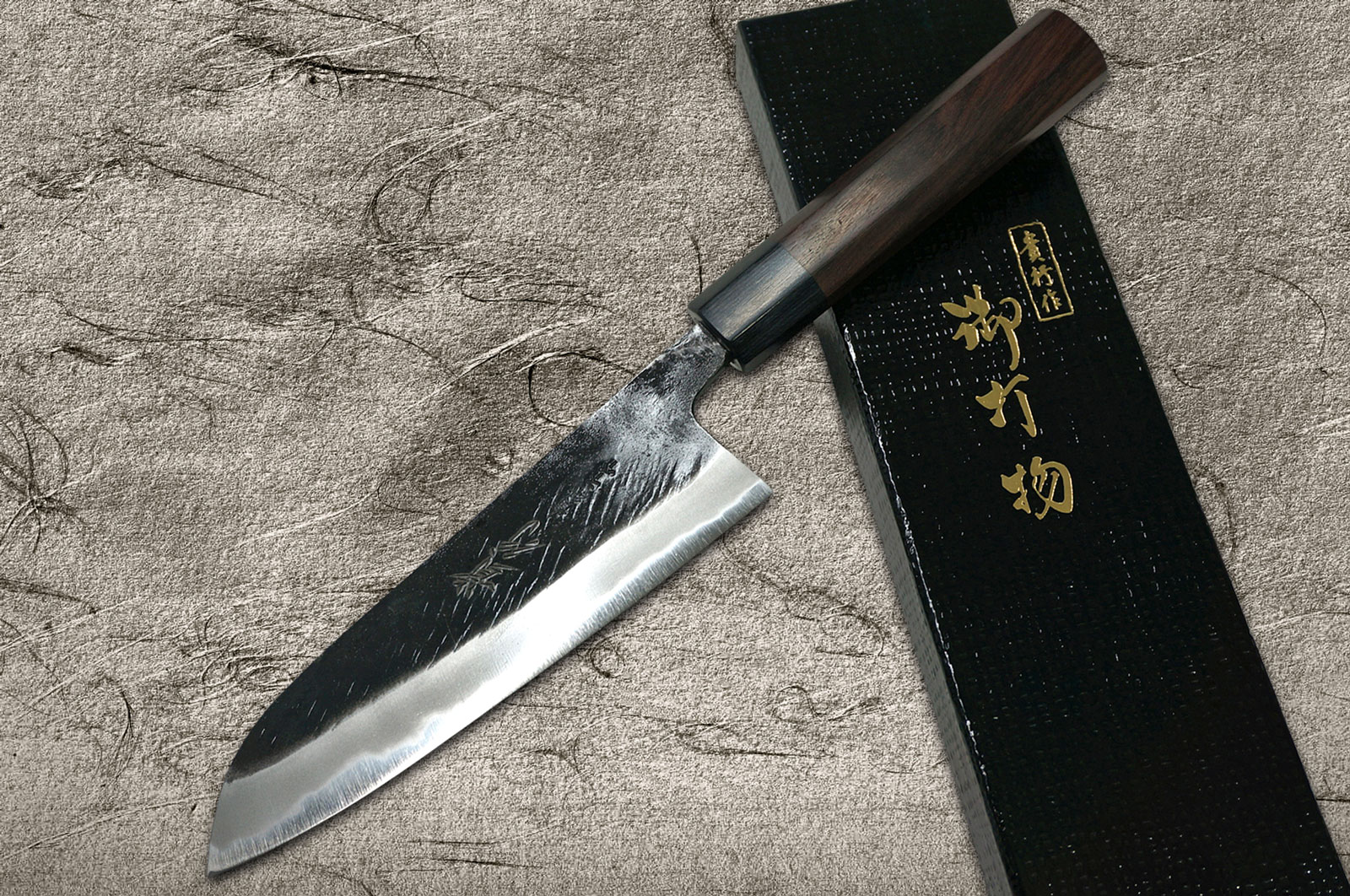 In addition, his knives are made to be light and well balanced, so that the center of gravity of the knife is in the hand and you can have them easily.
The handle is made of Red Sandalwood for beauty and durability, which gives us feelings of luxury.




We recommend this high-class kitchen knife series for professional chefs to enhance their art of cooking as well as for Perfect Gift.

[about IWAI HAMONO (IWAI Knife Manufacturing Inc.) ]
The IWAI blacksmith company has been devoted to manufacturing knives for approx. 80 years from in 1939. One of the promising blacksmith, Takeshi Iwai, received the certification of the youngest Traditional Craftsman of cutlery production industry in his 35 years old, in 2006.
His father, Takayuki Iwai, had also received the certification in 1994. It's the first thing that two generations are certified. It's notable that they never use machines for mass production but their skilled hands, because they believe machine-made knives are often inferior than hand-made ones in quality.
If you have any question, please feel free to contact us anytime.
Thank you for reading and best regards!
All the Hocho-Knife staff
~~~~~~~~~~~~~~~~~~~~~~~~~~~~~~~~~~~~~~~~~~~~~~~~~~~~~~~~~~~~~~~~~~
"Hocho" represents Made-in-Japan (Sushi / Sashimi) Kitchen Knives,
that is the soul of the cook!
~~~~~~~~~~~~~~~~~~~~~~~~~~~~~~~~~~~~~~~~~~~~~~~~~~~~~~~~~~~~~~~~~~
mport Japan.com,Inc.
Florida, USA
Kyoto and Hyogo, JAPAN