Goh Umanosuke Yoshihiro Suminagashi high-end series with Kurogaki wood handle in Kiri BOX is sure to be the greatest gift that you have likely never seen. It is highly recommended for Gift as well as for your supreme life experience.
Damascus Stainless Blade with Japanese Kurogaki wood Handle and Saya Sheath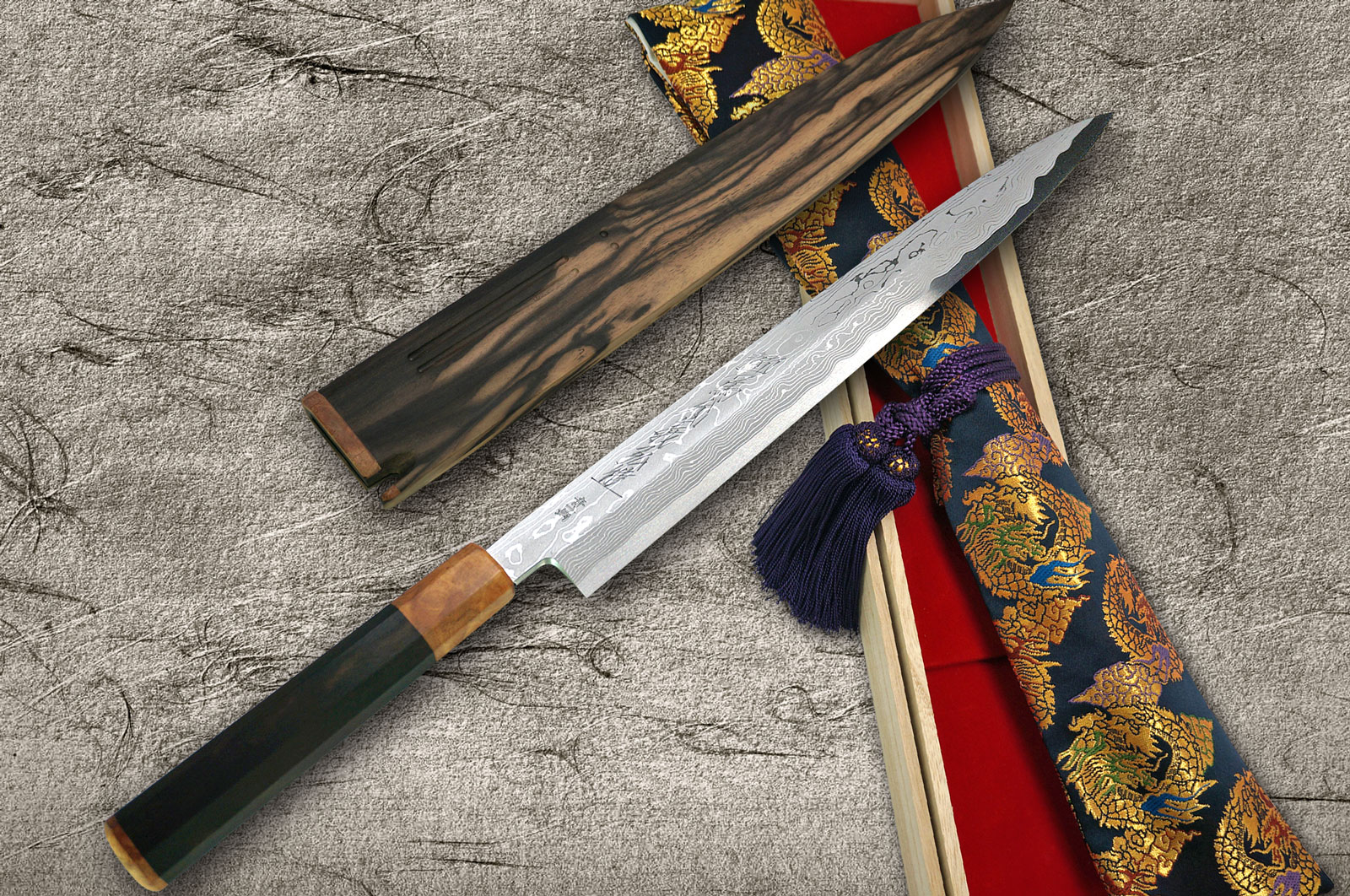 The Suminagashi series feature beautiful Damascus-patterned blades with a core of Blue Paper (Aogami or Aoko) No.1 Steel, which is "Aoko" or Blue Paper (Aogami) No.1 Steel Knife, made from famous Yasugi steel, known as prime high carbon steel, specifically developed for tools and knives. 
This material,Aoko #1, has highest wear resistance and toughness because of special hardness (hardness of 62-63 HRC). Very good choice for high end Japanese kitchen knives.
Speaking to the precious handle made of "Kurogaki wood" or "Japanese black persimmon", the Octagonal figure fits better comfortably to your hand. In addition, the wood saya sheath (knife cover) is also made of Kurogaki as well.
The Kurogaki is rare and valuable, so the knife series is made for you, high-end customers.
The handle and saya sheath represent special high quality and excellent durability, that means made for professional originally.
Premium Kiri Wood Box and Nishiki Cloth Bag for BEST GIFT

In addition, the premium Paulownia (Kiri) Wood Box and high-end Brocade (Nishiki) Cloth Bag are included. The knife is inserted into the Brocade (Nishiki) Cloth Bag which you put in the Paulownia Wood Box.

Please be noted that the stock is really limited and it may take a few months to restock if the item should not be available, because this series is made-to-order by skilled blacksmiths.
If you have any question, please feel free to contact us anytime.
Thank you for reading and best regards!
All the Hocho-Knife staff
~~~~~~~~~~~~~~~~~~~~~~~~~~~~~~~~~~~~~~~~~~~~~~~~~~~~~~~~~~~~~~~~~~
"Hocho" represents Made-in-Japan (Sushi / Sashimi) Kitchen Knives,
that is the soul of the cook!
~~~~~~~~~~~~~~~~~~~~~~~~~~~~~~~~~~~~~~~~~~~~~~~~~~~~~~~~~~~~~~~~~~
mport Japan.com,Inc.
Florida, USA
Kyoto and Hyogo, JAPAN