Shigeki Tanaka Aogami Damascus series with white-ringed Ebony Wood handle that represents high-status feature beautiful Damascus-patterned blades with a core of Blue Paper (Aogami or Aoko) No.2 Steel, known as prime high carbon steel, specifically developed for tools and knives.

Chef Knife (Gyuto)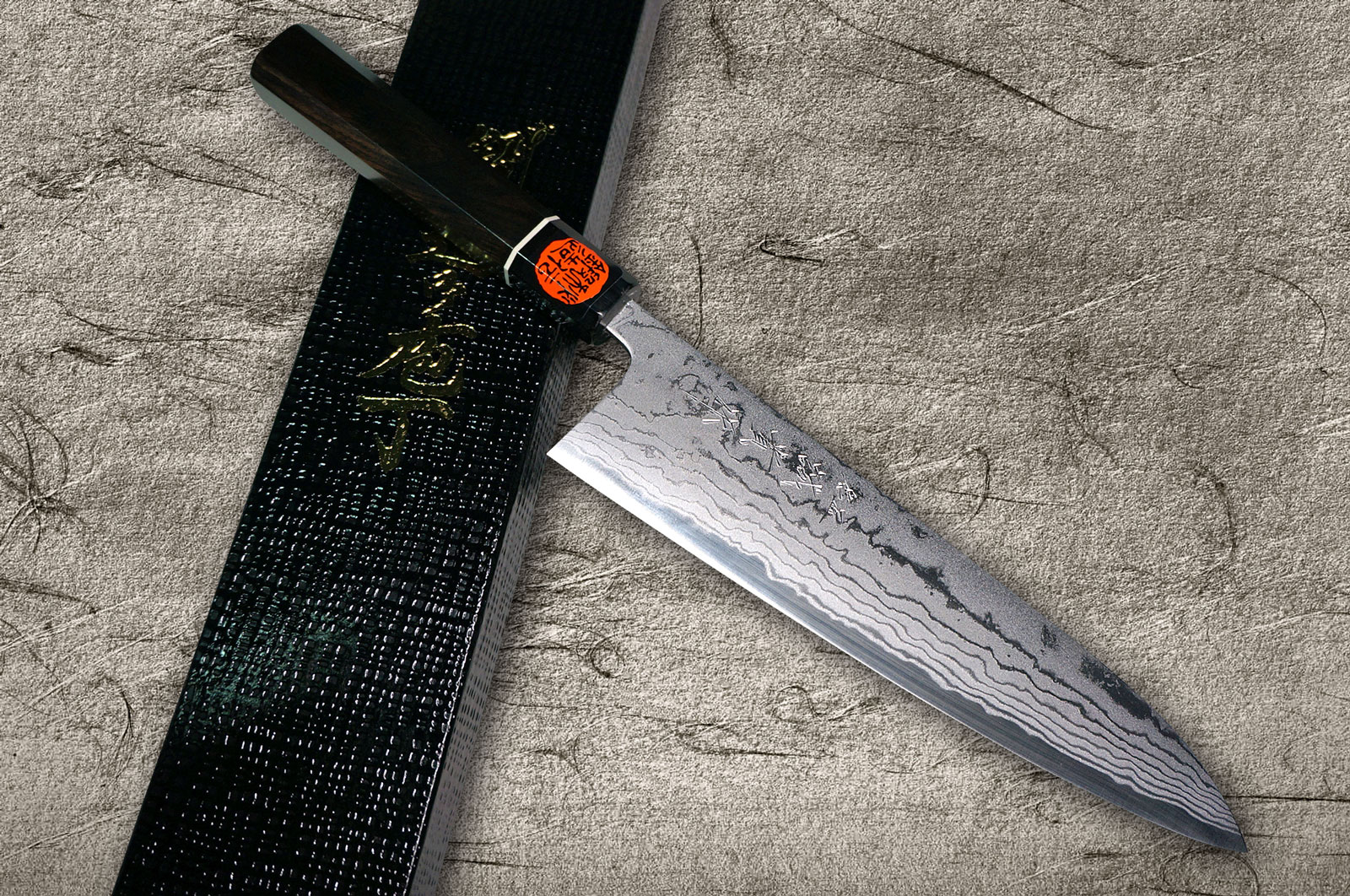 Speaking to the Ebony Wood handle, the Japanese-Style Octagonal figure fits better comfortably to your hand.
The buffalo tsuba equipped to the handle represents high-quality and excellent durability, that means made for professional originally.




This material has highest wear resistance and toughness because of special hardness (hardness of 63-64 HRC). Very good choice for high end Japanese kitchen knives.
These masterpieces are carefully forged & finished by the blacksmith Shigeki Tanaka with his own hands for their top-rate cutting performance.

>> Check the details


About Shigeki Tanaka
Shigeki Tanaka, well known as an outstanding master blacksmith at Miki in Japan, is turning out excellent knives with unsurpassed Japanese blade knowledge and expertise handed down from generation to generation for centuries.

Some Michelin 3-star chefs in Europe gave a high marks to the Tanaka knives, and we recommend this premium kitchen knife series for professional chefs to enhance their art of cooking as well as for Perfect Gift.

The stock is extremely limited. Very sorry for the inconvenience.
If you have any question, please feel free to contact us anytime.
Thank you for reading and best regards!
All the Hocho-Knife staff
~~~~~~~~~~~~~~~~~~~~~~~~~~~~~~~~~~~~~~~~~~~~~~~~~~~~~~~~~~~~~~~~~~
"Hocho" represents Made-in-Japan (Sushi / Sashimi) Kitchen Knives,
that is the soul of the cook!
~~~~~~~~~~~~~~~~~~~~~~~~~~~~~~~~~~~~~~~~~~~~~~~~~~~~~~~~~~~~~~~~~~
mport Japan.com,Inc.
Florida, USA
Kyoto and Hyogo, JAPAN