A customer gave us a question about the black colored blade,
"i already bought knife via your page i was just wondering what is the difference between white steel that looks completely silver(polished)
and the ones (also white steel) with black color on base of knife like one i bought.
(1) first knife ….. BLACK color – white steel
(2) second knife …. SILVER color – also white steel
my question is again about different color on same steel and how to treat the black one ..thank you :)"

The following was our answer, hoping it would be helpful for him.
———-
The knife with black colored sides is categorized as "Kurouchi", that is not a type of knife but rather a traditional, rustic finish.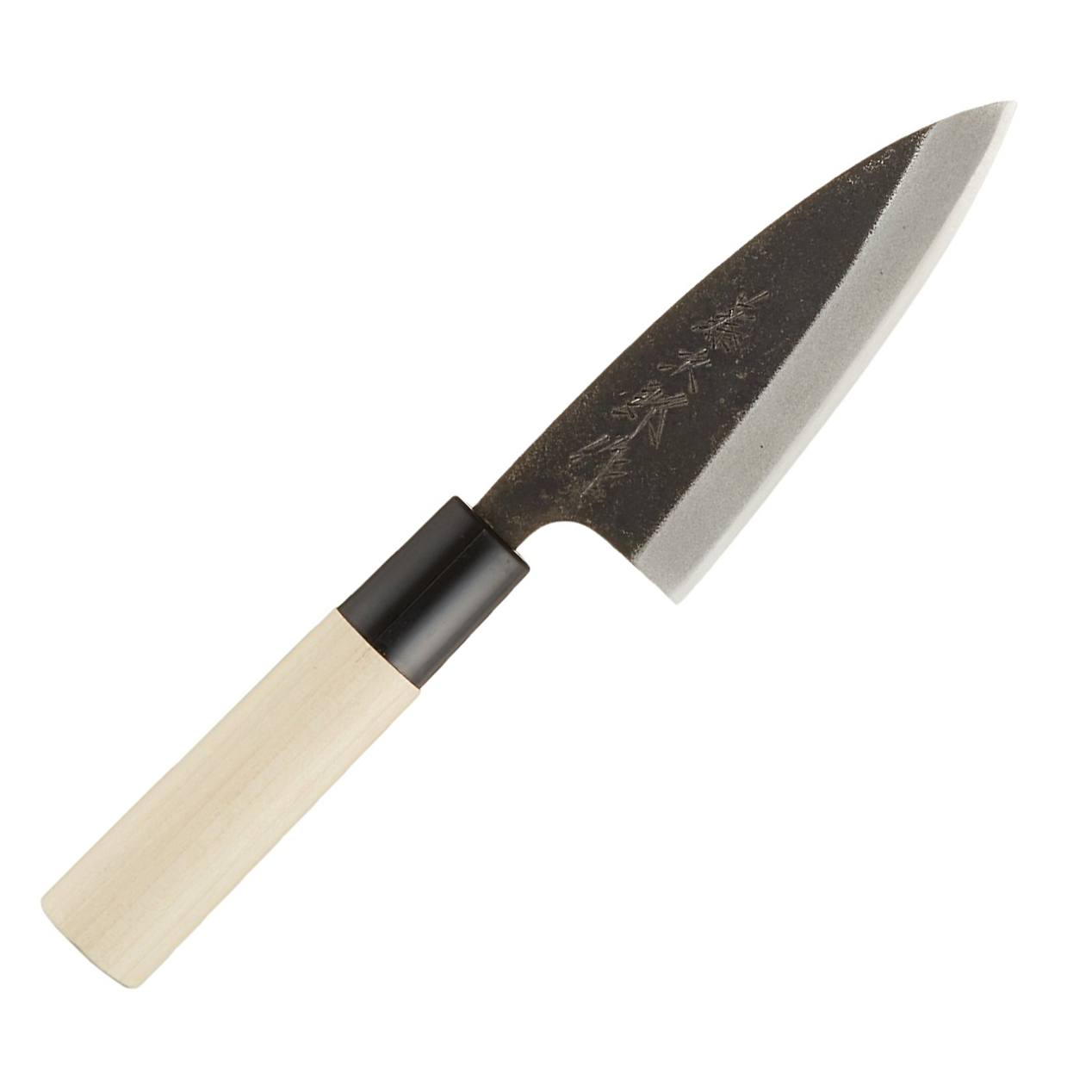 Kurouchi knives retain the scaly residue left from the forging process, meaning that the residue works as coating on the carbon steel to prevent from rust.
The finish of Kurouch reduces reactivity on carbon steel knives, and give the knife a very characterful, rustic aesthetic prized by many knife enthusiasts.
Kurouchi finishes vary widely in appearance, uniformity, and durability. Rarely do pictures do these finishes justice as they have a very complex look and feel to them.
Of course you need to sharpen the edge everytime after using it even if the Kurouchi coating works for the sides of blade.

On the other hand, most of kitchen knives in the market are categorized as normal polished ones with sliver glowing sides.
As you know you need polishing the sides of the blade as well as sharpening the edge if the blade is not made of stainless steel.


Does that answer you rightly?
———-
A few hours later, we were very happy to hear from the customer, "Thank you very much for answering and providing info i needed. "
If you have any question, please feel free to contact us anytime.
Thank you for reading and best regards!
All the Hocho-Knife staff
~~~~~~~~~~~~~~~~~~~~~~~~~~~~~~~~~~~~~~~~~~~~~~~~~~~~~~~~~~~~~~~~~~
"Hocho" represents Made-in-Japan (Sushi / Sashimi) Kitchen Knives,
that is the soul of the cook!
~~~~~~~~~~~~~~~~~~~~~~~~~~~~~~~~~~~~~~~~~~~~~~~~~~~~~~~~~~~~~~~~~~
mport Japan.com,Inc.
Florida, USA
Kyoto and Hyogo, JAPAN