Today, I'd like introduce you, a discriminating customer, who are looking for a SWORD Style Cool Japanese Knife.
http://www.hocho-knife.com/sakai-takayuki-17-layer-damascus-kiritsuke-yanagiba-sashimi-300mm/
The 17-layer Damascus Kiritsuke YANAGIBA(SASHIMI) Knives are crafted out of a 17 layer VG10 damascus steel.
These knives have a seriously sharp edge, extremely hard (HRC: 60), excellent edge retention and a light center balanced feel. Its shape comes from a traditional Sword style that cuts effectively for slicing fish and is used to make Sashimi and Sushi. The handles on these knives are hand crafted out of desert ironwood, which is water resistant and beautifully grained.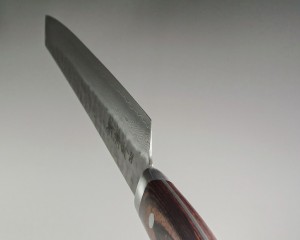 The Kiritsuke Yanagiba is designed in Japan between a Western chefs' knife and Japanese yanagiba, it has a single-edged blade with a Western-style handle, combining both Japanese and Western function and practicality in one knife.
Traditionally Japanese knife, Hocho, have been crafted for Japanese cuisine, but in accordance with their thriving popularity, many non-Japanese chefs covet using them in various cuisines.
In response to the trend, manufacturers in Japan, strive to make innovative types of knives to meet these global demands. Sakai Takayuki Knives has been cultivated through a long 600-year history. The Kiritsuke Yanagiba by "Sakai Takayuki" is one of the best answers, which skillfully incorporates the beauty of Japanese Hocho and Western Knives.
The long blade is single-edged just like Japanese hocho, while the handle is designed for Western demands. The combination of the blade and handle overcomes the longtime difficult demands of many professional chefs. We highly recommend you to once experience the excellent handling performance and beautility of the Kiritsuke Yanagiba.
For more Japanese Style Blades, the following is recommended.
http://www.hocho-knife.com/sakai-takayuki-grand-chef-kiritsuke/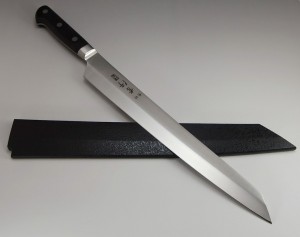 The deluxe type with the stylish handle is better choice for Gift.
http://www.hocho-knife.com/sakai-takayuki-grand-chef-kiritsuke-sp1/
Thank you and best regards !
mport Japan.com,Inc.
Florida, USA
Kyoto and Hyogo, JAPAN