Kunio Yanagida (1875~1962), known as the father of Japanese native folkloristics, or minzokugaku, analyzed the Japanese culture focusing on a cyclical rhythm comprised of two different types of events: "hare" and "ke".




Events of "hare" includes "shogatsu" (new year holidays), "obon" (a unique vacation season in summer to welcome spirits of their ancestors) and any other extraordinary events while "ke" means just ordinary daily life. Yanagida pointed out that boundary between "hare" and "ke" blurred as Japan modernized itself. This trend has also been observed in the world of Kimono.
KIMONO MADE OF TSUMUGI IS SUPPOSED TO BE NO MORE THAN DAILY CLOTHING
Good example is Kimono made of tsumugi.
"Ohshima tsumugi and Yuuki tsumugi is made with very traditional technique, which makes some of them very expensive all the more. Having said that, tsumugi was originally made of thread coming from waste cocoons which had no use of producing raw silk even though it's categorized as 'silk fabric', it was meant for peasants' daily clothing", said Taizo Takahashi, owner of a high-end kimono store in Kyoto. Takahashi's late father opened the store in Kyoto. Takahashi opened his flag store in Ginza, Tokyo in 2001. He has also presented kimono to the Imperial family and worked on Kabuki costumes.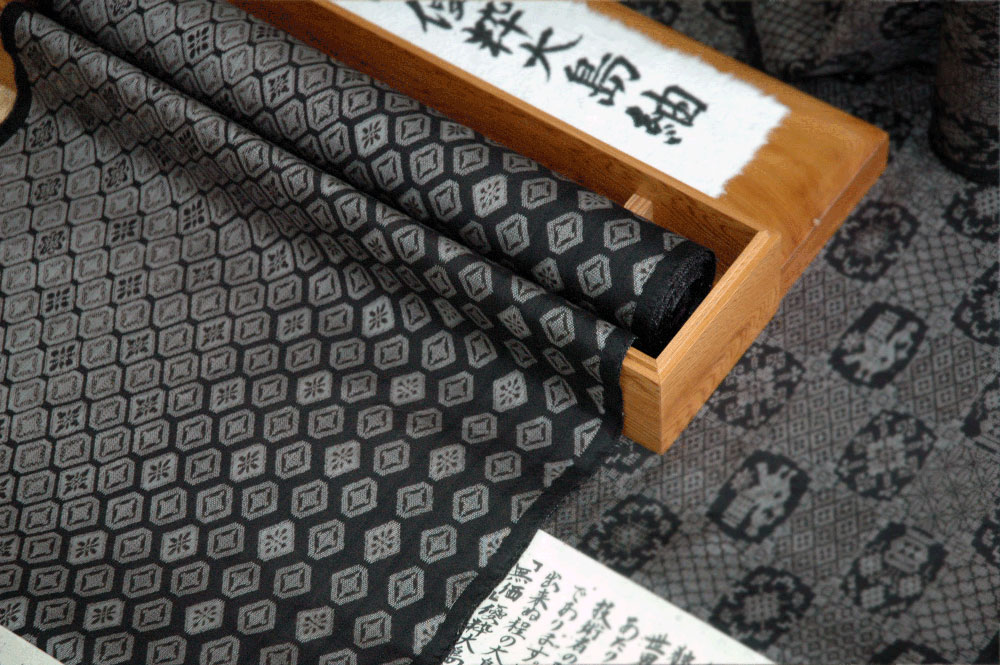 He also added, "Surprisingly enough, some people choose tsumugi Kimono and wear Fukuro Obi, obi used for extraordinary events, on the occasion of tea ceremony. Even if it's expensive and beautiful, I think it's not just appropriate to wear tsumugi on formal and official occasions like a tea ceremony. It might be acceptable to put on tsumugi on the occasion of a personal casual tea party or so-called oyose chakai (a large tea party); however, it would be safe and recommended to wear Kimono of better quality such as houmongi or tsukesage which are more suitable for formal events like hatsugama."
Takahashi maintains that as long as the Chado (tea ceremony) contains the word "do", it falls into a category of culture which attaches a great importance to traditional practice. If something deviates from its standard, it looks strange and inappropriate. Even if you use obi of best quality, you can never upgrade the class of tsumugi. In addition, you just can't wear Kimono and obi each of which comes from a different class.
YOU HAVE TO PICK UP APPROPRIATE CLASS OF KIMONO FOR SEEING A KABUKI PLAY
For those who attend not only tea ceremony, but also kabuki play seeing, it used to be a common sense to pick up an appropriate class of Kimono.
"It is said that Okujochu (a woman in waiting in the inner part of a lord's mansion in the Edo period) and Gonaigi (a wife of an influential merchant) changed Kimono many times just to see a play. Especially at a time when a show with an all-star cast was held at Minamiza in Kyoto, almost all the audience had their Kimono customized for the special occasion. Even now, some ladies wear irotomesode or houmongi to visit the first day or closing day of a performance of announcing the succession to another's stage name. Their presence gives added grace to the occasion itself and the venue", said Takahashi.


He continued, "I think it's OK now to wear casual clothing for kabuki seeing since the times have changed. You don't necessarily have to be sensitive to a class of Kimono to go to kabuki plays which are for amusement. At least, you need to be aware of that it's just not appropriate to wear yukata or coordinate a frilled collar with your Kimono when going to Kabuki-za, the greatest authority in the entertainment field."
Drawing a line between the area that requires a clear-cut demarcation between "hare" and "ke" and the area that doesn't necessarily need distinction can be interpreted as making a distinction between the two in a way.
In spite of Takahashi's sense of crisis, more and more people have cared less about grade of kimono to wear on the occasions such as wedding ceremony and reception which require highest rank of dress code.
It was not only mothers of a newly-wed couple, but also married women in the law who attended a ceremony and reception used to wear kurotomesode.
To our regret, the order and production quantity of the kurotomesode have been on the decline. This is because younger couples no longer ask anyone to be their Nakodo (the go-between who arranges the match between a man and a woman for their marriage) for their wedding. Also, other than mothers of a couple, less and less women wear kurotomesode on such occasions.
BLACK IS NOT UNGLAMOROUS AT ALL.
One of the reasons why kurotomesode has become less popular than before is that people are seated at a table at a wedding reception. Here in Japan, guests used to get down on their knees on the floor so the patterns located around the knees on the kimono were seen. But at a table, we can only see the chest area without knee area at a table. This is why many women have found it somber and become less willing to wear kurotomesode.
Takahashi pointed out, "The idea itself is not correct. "Black" is the noblest color encompassing all the colors. Up until the Edo period, dying kimono with the color of beautiful black required considerable degree of efforts – from extracting liquid from a betal palm tree to using it for iron mordanting.
It was not until the Edo period that black-dying technique called "sandoguro" using chemical dye was established. This "sandoguro" dying technique made it possible to mass-produce quality kurotomesode. Dye artisan, especially who dyed kimono with the color of black used to be regarded as a job of higher rank.
Although it is kurotomesode that are the most formal kimono for married women, according to protocol, they are not allowed to wear when you're invited to the Imperial court.
"Instead of kurotomesode, married women wear irotomesode on the occasions when they are invited to Imperial Court. It was my father, the late head of the family, made the first irotomesode and paved the way for it to establish itself as one new genre of ebamono.
On the day when Empress Michiko left her parents' home to get married to Empress Akihito, the mother of Her Highness, Mrs. Tomiko Shouda saw her off at the porch wearing irotomesode. I'm humbly proud of the fact that my father made that her irotomesode."
As Kunio Yanagida once said, boundary between one-time "hare" and "ke" blurred. It's also true that new "hare" and "ke" have been being generated at the same time. What supports them is nothing but the Japanese culture and tradition.

Hoping that the article would be useful to you all.
If you have any question, please feel free to contact us anytime.
Thank you for reading and best regards!
All the Hocho-Knife staff
~~~~~~~~~~~~~~~~~~~~~~~~~~~~~~~~~~~~~~~~~~~~~~~~~~~~~~~~~~~~~~~~~~
"Hocho" represents Made-in-Japan (Sushi / Sashimi) Kitchen Knives,
that is the soul of the cook!
~~~~~~~~~~~~~~~~~~~~~~~~~~~~~~~~~~~~~~~~~~~~~~~~~~~~~~~~~~~~~~~~~~
mport Japan.com,Inc.
Florida, USA
Kyoto and Hyogo, JAPAN