Takeshi Saji Rainbow-colored VG10 Damascus series feature special blades with a core of VG-10 stainless steel cladded with multiple layers of rust-resistant stainless steel, brass and copper, which provides a long-lasting edge as well as its beautifulness and unique multi-metal-colored texture with custom-made feeling.




The stylish handle of the knife is hand crafted out of beautiful orange-colored Antler (Deer horn) with brass bolster. It is much durable, easy to grip and well blade balanced.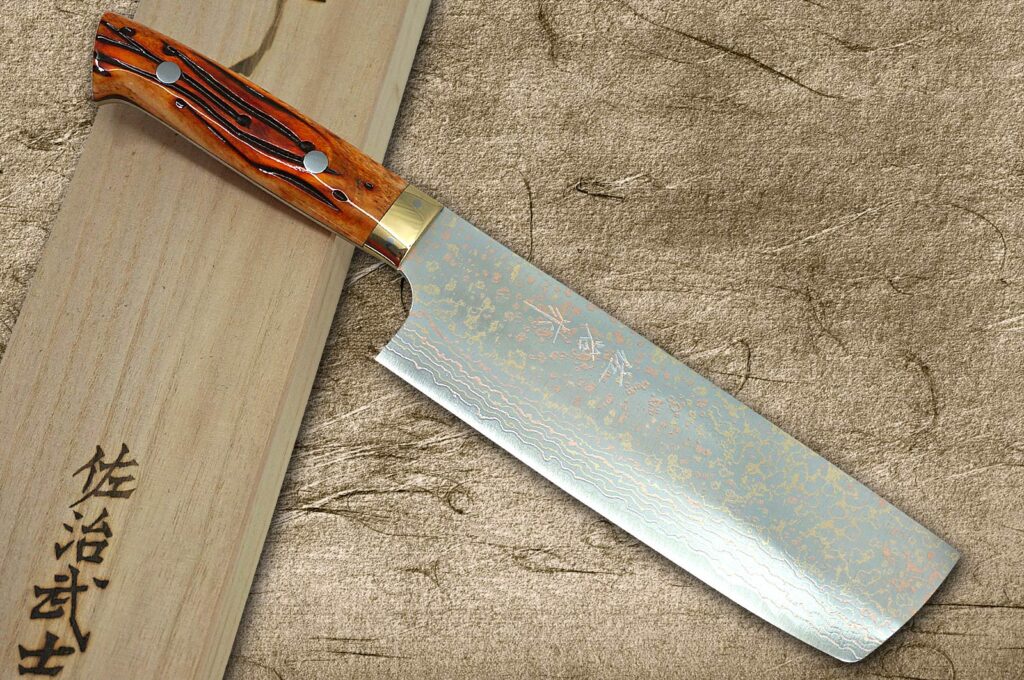 Please be noted that the stock of the Saji Rainbow-colored VG10 Damascus Knives is extremely limited. Very sorry for the inconvenience.

[about Takeshi Saji]
Takeshi Saji is the leading blacksmith in Echizen. Saji was born in Takefu in 1948 in a family of second-generation smith. In 1992, he was officially certified as a "Traditional Master Craftsman" by the Japanese "Ministry of International Trade & Industry".


If you have any question, please feel free to contact us anytime.
Thank you for reading and best regards!
All the Hocho-Knife staff
~~~~~~~~~~~~~~~~~~~~~~~~~~~~~~~~~~~~~~~~~~~~~~~~~~~~~~~~~~~~~~~~~~
"Hocho" represents Made-in-Japan (Sushi / Sashimi) Kitchen Knives,
that is the soul of the cook!
~~~~~~~~~~~~~~~~~~~~~~~~~~~~~~~~~~~~~~~~~~~~~~~~~~~~~~~~~~~~~~~~~~
mport Japan.com,Inc.
Florida, USA
Kyoto and Hyogo, JAPAN