Some says Kei Kobayashi's knives can be the best as your important present because of his outstanding beautiful finishing work in details.
The black-finished damascus version has been officially launched with advanced blade finishing technique.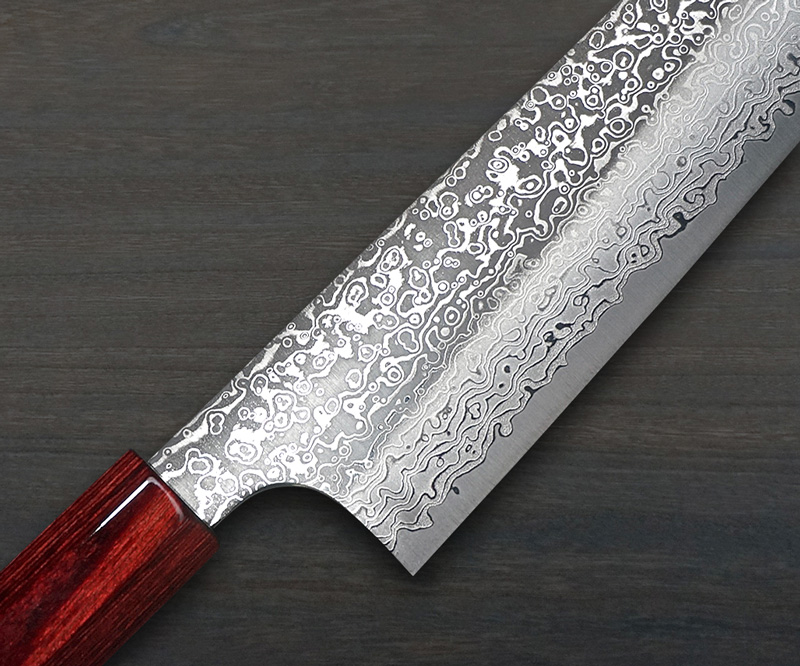 Kei's Knives feature 63 Layer Damascus-patterned & Black-finished blades with a core of SG2 (Super Gold 2 or R2) Micro Carbide Powder Stainless Steel for professional. The blade provides excellent rust resistance and a long-lasting edge as well as its beautifulness.


The "septagonal" shaped wood handle fits better comfortably to your hand, painted with austerely elegant dark-red cashew lacquer for beauty and durability.


[about Kei Kobayashi]
Kei Kobayashi joined his father's company in Seki, Japan and recently established his own knife brand for excellent finish & razor sharp edges.
His talented knifemaking & sharpening technique are known unrivalled by the others, and he works for some top blacksmiths.
We highly recommend his knives for your loved one and important persons as gift, because you'll be sure to recognize the different level quality of his knives made with great attention to detail.

If you have any question, please feel free to contact us anytime.
Thank you for reading and best regards!
All the Hocho-Knife staff
~~~~~~~~~~~~~~~~~~~~~~~~~~~~~~~~~~~~~~~~~~~~~~~~~~~~~~~~~~~~~~~~~~
"Hocho" represents Made-in-Japan (Sushi / Sashimi) Kitchen Knives,
that is the soul of the cook!
~~~~~~~~~~~~~~~~~~~~~~~~~~~~~~~~~~~~~~~~~~~~~~~~~~~~~~~~~~~~~~~~~~

mport Japan.com,Inc.
Florida, USA
Kyoto and Hyogo, JAPAN