A beginner sushi chef was looking for his best knife.
"I started to work at a sushi restaurant a few weeks ago and I'm really interested in this kind of work now.
My question is what knife should I buy or what brand I should hold for a few years, because I want to buy at once the best knife, because you know Global is good for me but for most people it hurts the hands.
Anyway I hope I'll be given enough info to help me out."
His problem seems not special, and we suggested him,
"Congratulations to have started working for a sushi restaurant.
If you cut raw fish for sashimi in earnest, a set of Yanagiba and Deba (and preferably Usuba for vegetable) is thought a must.

I think Global series is not bad but it is a kind of kitchen knives not for cooking in a sushi restaurant.
We recommend stainless steel series of (for example) the following brands,
because they are reasonable and rust-resistant.
http://www.hocho-knife.com/masahiro-stainless-japanese-style/
http://www.hocho-knife.com/brieto-m11pro-mv-stainless/
http://www.hocho-knife.com/tojiro-pro-swedish-m-v-all-stainless/
http://www.hocho-knife.com/sakai-takayuki-inox-japanese-style/


If you need razor-sharp professional knives to use for a long time,
high-carbon steel series would be fine though they need daily care.
http://www.hocho-knife.com/sabun-honkasumi-tamiashiro-steel-with-saya/
http://www.hocho-knife.com/yukifuji/
http://www.hocho-knife.com/masamoto-honkasumi-tamashiro-steel/


More information of Recommended product line can be checked in the coverage.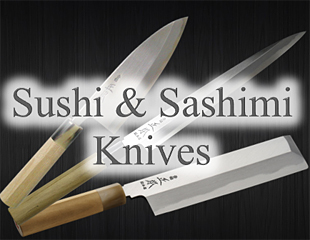 Does that answer you rightly?"
Of course there may be many choice of brand other than the above. 
If you have any question, please feel free to contact us anytime.
Thank you for reading and best regards!
All the Hocho-Knife staff
~~~~~~~~~~~~~~~~~~~~~~~~~~~~~~~~~~~~~~~~~~~~~~~~~~~~~~~~~~~~~~~~~~
"Hocho" represents Made-in-Japan (Sushi / Sashimi) Kitchen Knives,
that is the soul of the cook!
~~~~~~~~~~~~~~~~~~~~~~~~~~~~~~~~~~~~~~~~~~~~~~~~~~~~~~~~~~~~~~~~~~
mport Japan.com,Inc.
Florida, USA
Kyoto and Hyogo, JAPAN