Mcusta Zanmai brand by MARUSHO Inc. has been cultivated in the 800-year historical blade capital of SEKI city, Japan. It is at the top of the synthesis between traditional Japanese craftsmanship and modern cutting edge technology.

Each knife design is meticulously evaluated and refined. Only the finest materials are chosen for supreme durability, function and beauty.
Mcusta Zanmai blades are precision laser cut, and then carefully hand-assembled, hand-finished and inspected by Mcusta's team of master craftsmen. The blades are hand sharpened to ensure maximum sharpness out of the box. We highly recommend you to once experience the excellent performance and beautility of the Zanmai knives.
<< Damascus & Ripple Pattern Series >>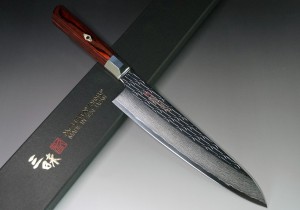 The unique Ripple pattern is originally created by the Zanmai technology, which you may never find it in the world. The design represents ocean and shore line. It's associated with a Japanese traditional picture in the Edo era.
<< Damascus & Hammered Pattern Series >>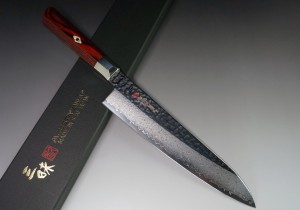 The Damascus and hammered is very popular recently, of course. The series of Zanmai is more unique than others because of its handle as well as the blade pattern . It is worth to add your collection.
<< What is "ZANMAI" ? >>
"ZANMAI" is used in Japanese language to mean LUXURY. The word is however in fact derived from the Sanskrit term "Samadhi", which refers to the state of consciousness induced by complete meditation.
If you have any question, please feel free to contact us anytime.
Thank you for reading and best regards!
All the Hocho-Knife staff
~~~~~~~~~~~~~~~~~~~~~~~~~~~~~~~~~~~~~~~~~~~~~~~~~~~~~~~~~~~~~~~~~~~~~
"Hocho" represents Made-in-Japan (Sushi / Sashimi) Kitchen Knives,
that is the soul of the cook!
~~~~~~~~~~~~~~~~~~~~~~~~~~~~~~~~~~~~~~~~~~~~~~~~~~~~~~~~~~~~~~~~~~~~~
mport Japan.com,Inc.
Florida, USA
Kyoto and Hyogo, JAPAN