Fujiwara Kanefusa WB Kurouchi Hamon Series has unique wavy Damascus pattern & Kurouchi finished surface on the blade, made to put soft kitchen knife iron on Yasuki's traditional Nihonko or Hagane — Shiroko / White Paper No.2 Steel — which has been widely used for a very long time in Japan. The material makes extreme sharpness, very good edge holding and high working hardness.




You can grind it to extreme sharpness, which it retains for a long time.
The blade is particularly suitable for the gentle preparation of foods though you need to treat the blade to prevent from rust.




Fujiwara WB Series knife has D-shaped handle (Round-shaped handle only for Deba) that is made from magnolia wood and a water buffalo horn tsuba (guard or ferrule).
The Buffalo Tsuba equipped to the handle is represent high-quality and excellent durability, that means made for professional originally.
But it is highly recommended for Gift as well as for your better cooking experience.


The Fujiwara Kanefusa 26th forging steel for knives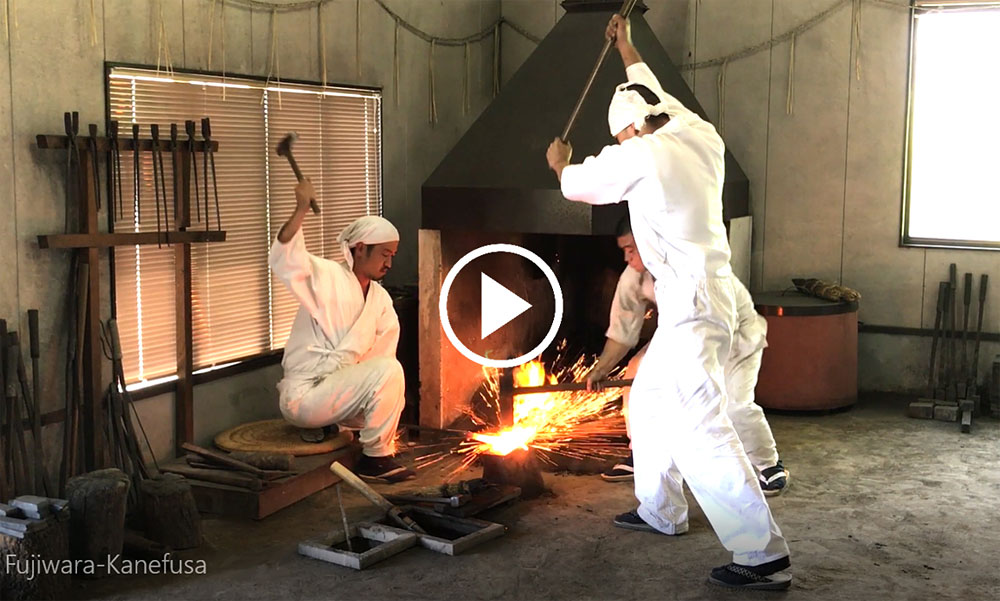 "Fujiwara Kanefusa" is one of the ancient lines of famous master swordsmith. The family have been running the traditional production of Japanese swords in Seki city, Japan from Muromach era around 16th century. 
The family has been inheriting the technology of Japanese samurai sword making which is applied to producing high quality kitchen knives.

Kanefusa kitchen knives has gained a high reputation for the excellent quality and affordable price.
>> Check the details

If you have any question, please feel free to contact us anytime.
Thank you for reading and best regards!
All the Hocho-Knife staff
~~~~~~~~~~~~~~~~~~~~~~~~~~~~~~~~~~~~~~~~~~~~~~~~~~~~~~~~~~~~~~~~~~
"Hocho" represents Made-in-Japan (Sushi / Sashimi) Kitchen Knives,
that is the soul of the cook!
~~~~~~~~~~~~~~~~~~~~~~~~~~~~~~~~~~~~~~~~~~~~~~~~~~~~~~~~~~~~~~~~~~
mport Japan.com,Inc.
Florida, USA
Kyoto and Hyogo, JAPAN