Today, we're pleased to introduce to you the Black Finished Beautiful Damascus Blade with very Japanese traditional handle by Kanehiro (KINTARO), that features 63 layers of Nickel Damascus-patterned blades with a core of VG-10 stainless steel for professional with excellent rust resistance and a long-lasting edge as well as its beautifulness.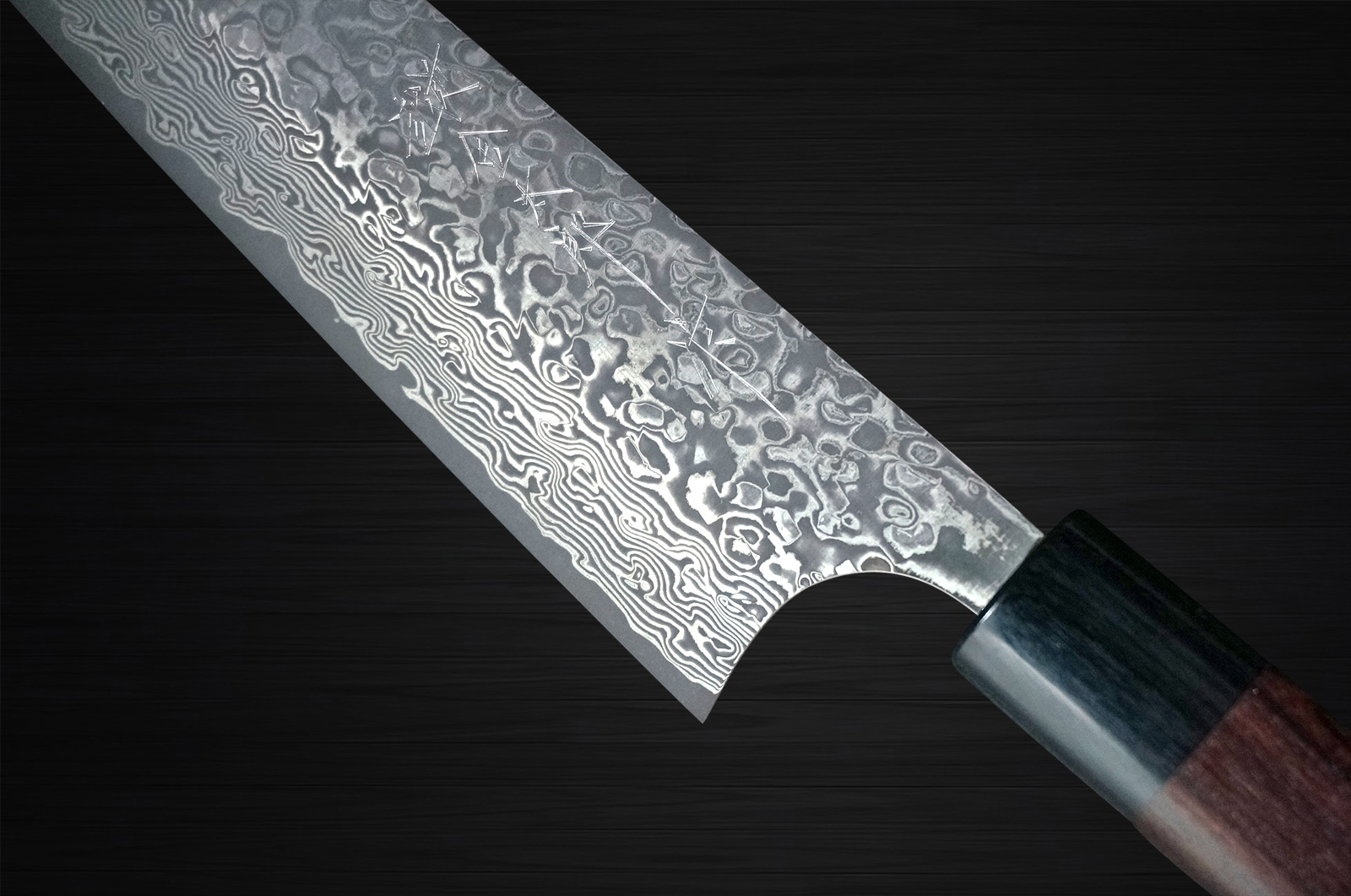 About KANEHIRO (KINTARO), its founder Mr. Kintaro Kato started kitchen knife production in 1928 and founded his company KANEHIRO UCHI HAMONO (KANEHIRO Cutlery-Forging Manufacturer) at Takefu city, Fukui in 1958.
He was awarded the Order of the Sacred Treasure, Silver Rays in 1987. His son, Hiroshi Kato, received the certification of the traditional craftsmen on February 2008.
"Echizen" is the historical area in Fukui prefecture, including Takefu city, as one of Japanese important knife capitals.
The kitchen knives made in the Echizen is called Echizen Uchi Hamono. The art of making Japanese kitchen knives has a history of about 700 years.
Echizen Uchi Hamono is designated as "Traditional Crafts" by the Minister for Economy, Trade and Industry.
The family produces many challenging stylish knives and we highly recommend their products for professional chefs to enhance their art of cooking as well as for Perfect Gift.
But, the stock is very limited, and we hope that you don't miss this rare opportunity.
If you have any question, please feel free to contact us anytime.
Thank you for reading and best regards!
All the Hocho-Knife staff
~~~~~~~~~~~~~~~~~~~~~~~~~~~~~~~~~~~~~~~~~~~~~~~~~~~~~~~~~~~~~~~~~~
"Hocho" represents Made-in-Japan (Sushi / Sashimi) Kitchen Knives,
that is the soul of the cook!
~~~~~~~~~~~~~~~~~~~~~~~~~~~~~~~~~~~~~~~~~~~~~~~~~~~~~~~~~~~~~~~~~~
mport Japan.com,Inc.
Florida, USA
Kyoto and Hyogo, JAPAN