Do you know HAMO?

Many Japanese restaurants put some dish of HAMO to their menu for reflecting the summer season, very popular in Japan, but it is actually not well-known outside Japan.



HAMO is a white-meat fish in the eel family, daggertooth pike conger which has a deep ripped mouth with sharp teeth at the upper and lower parts of the jaw.
Regardless the above big jaw, it is a popular summer dish in the Kansai area, especially in Kyoto during the Gion Festival.

Today HAMO becomes more and more welcomed in East Japan or Tokyo area, and it actually represents Japanese summer.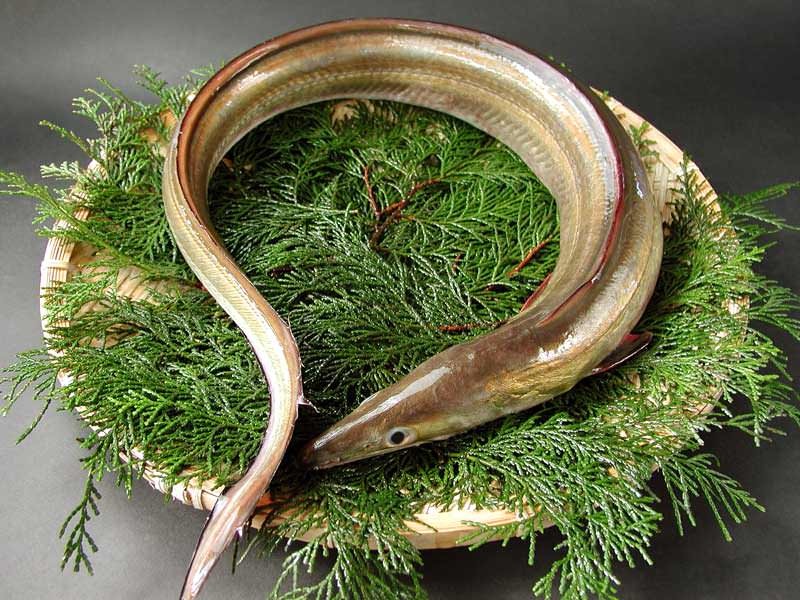 The Japanese name comes from "hamu hamu", an old term for eating, because the fish uses its sharp teeth to eat almost anything from shrimps and crabs to small fish.
Hamo is caught in the warm waters of the Japanese inland sea, where it lives at the soft bottom or in estuaries.
It is caught between May and October and is at its best in July. Large quantity of the fish is consumed around this time.

There is a special reason why HAMO is so popular in Kyoto, that is a land-locked city and in the past it was difficult to bring any fresh sea fish there.
But only HAMO is an exception and got popular in Kyoto, despite the difficulty of preparing it.
You can check the preparation of HAMO in the video, very interesting especially in the late part where HAMO has to be sliced very thinly with a special Hamokiri-bocho knife (or Honekiri-bocho knife), without cutting the flesh in half.

I personally think that it would be a wasteful not to eat fresh HAMO cuisine when you visit the summer Japan.

If you have any question, request and advice, please feel free to contact us.
Thank you and best regards !
All the Hocho-Knife staff
~~~~~~~~~~~~~~~~~~~~~~~~~~~~~~~~~~~~~~~~~~~~~~~~~~~~~~~~~~~~~~~~~~
"Hocho" represents Made-in-Japan (Sushi / Sashimi) Kitchen Knives,
that is the soul of the cook!
~~~~~~~~~~~~~~~~~~~~~~~~~~~~~~~~~~~~~~~~~~~~~~~~~~~~~~~~~~~~~~~~~~
mport Japan.com,Inc.
Florida, USA
Kyoto and Hyogo, JAPAN