Glestain knives received an enormous amount of support from many professional chefs in the field of Western cuisine in Japan.
The name of "Glestain" might sound a name of a maker in Western country but it is an authentic Japanese brand.




The unique dimples on the surface apparently look different from those on the normal dimpled knives by other manufacturers. This enables you to thinly slice the fish and meat, as well as chop the vegetables, without sticking on the blade.




Norio Negishi, who is the master chef of the prestigious hotel "Hotel Okura" at Tranomon in Tokyo JAPAN, is one of the lovers of Glestain.
"First of all, the best thing about Glestain knives is solidness with quite enough durability.
Its sharpness remains effective for a longer time than others."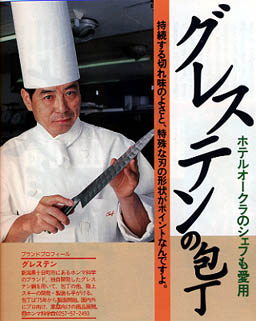 >> Check the details

If you have any question, please feel free to contact us anytime.


Thank you for reading and best regards!
All the Hocho-Knife staff
~~~~~~~~~~~~~~~~~~~~~~~~~~~~~~~~~~~~~~~~~~~~~~~~~~~~~~~~~~~~~~~~~~
"Hocho" represents Made-in-Japan (Sushi / Sashimi) Kitchen Knives,
that is the soul of the cook!
~~~~~~~~~~~~~~~~~~~~~~~~~~~~~~~~~~~~~~~~~~~~~~~~~~~~~~~~~~~~~~~~~~
mport Japan.com,Inc.
Florida, USA
Kyoto and Hyogo, JAPAN