Recently, a customer asked us, "whether is the knife ready to use straight away or needed to be sharpened by myself?"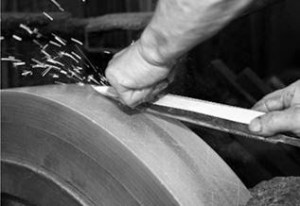 Normally, a obtuse angle finishing at the blade edge by a machine in manufacturers (called "standard blade finishing (sharpening)") is applied to most of the knives that are stocked and displayed in the store.
It is thought enough for general use, because manufacturers apply the standard finishing for various possible application.
(Regarding some high-end knives, the edge of the blade has to be hand-finished one by one before shipment. That is stated in the description in the item page.)

Professional chefs often apply a hand-finishing  (fine-grinding by hand) to the blades by themselves just after they buy the knives.
If the chefs would like to cut just soft ingredients, acute (sharper) angle at the edge would be great to stimulate its cutting performance.
On the other hand, if they have to cut hard ingredients, obtuse angle at the edge must be good to prevent the edge from easy chips.
Some professionals make their knives easier to use through such a self-finishing customization as semi-single edged, semi-double edged (like 70:30) or as special edged with different edge angles from the point to point.
We hope the above would assist you.


If you have any question, please feel free to contact us.
Thank you and best regards !
All the Hocho-Knife staff
~~~~~~~~~~~~~~~~~~~~~~~~~~~~~~~~~~~~~~~~~~~~~~~~~~~~~~~~~~~~~~~~~~~~~
"Hocho" represents Made-in-Japan (Sushi / Sashimi) Kitchen Knives,
that is the soul of the cook!
~~~~~~~~~~~~~~~~~~~~~~~~~~~~~~~~~~~~~~~~~~~~~~~~~~~~~~~~~~~~~~~~~~~~~
mport Japan.com,Inc.
Florida, USA
Kyoto and Hyogo, JAPAN