A whetstone is usually used to actually sharpen the blade.

Generally speaking, there are two types of grindstone. Sharpening a blade needs water on the whetstone especially in Japan, but people sometimes used to use oil on a in other areas that have not enough water.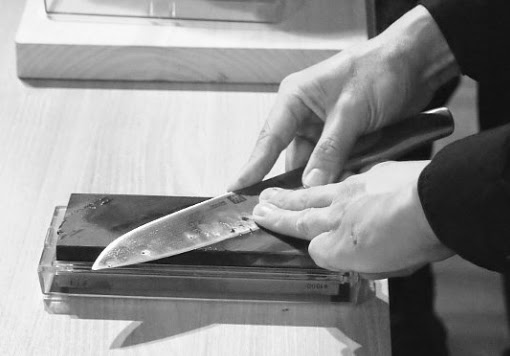 Oil whetstone was developed in countries such as the United States that may lack of water.
The stone for oil is generally made of harder abrasive particle than water whetstone, and it exhibits little wear by some grinding.
So, it can be used to a tool such as drill, chain saw and folding knives as well as kitchen knives.
When polishing, you push the blade onto an oil whetstone that needs some oil to slip on it.
A common technique is to rub all your might over the body weight when you sharpen by oil grindstone with the abrasive particles.
That means it is not easy to get more sharpness than that by waterstone.


On the other hand, a water whetstone itself is softer but has stronger polishing performance than the oil one. It is suitable for sharpening the Japanese-style forged steel such as swords and kitchen knives.

In order to achieve both smooth sharpening taste and the goodness of the finish,
polishing grains are rolling together with peeled steel powders on the blade surface.
This is the best grinders in Japanese style cutlery obtained a very sharp edge like a razor.


We rather recommend to use waterstone to keep good sharpness of your kitchen knife set.
The sharpness often influences the taste of your dish as well as feeling to cut food.


We hope the above would assist you.
If you have any question, please feel free to contact us and register our Newsletter to get core information and special present.



Thank you for reading and best regards!
All the Hocho-Knife staff
~~~~~~~~~~~~~~~~~~~~~~~~~~~~~~~~~~~~~~~~~~~~~~~~~~~~~~~~~~~~~~~~~~~~~
"Hocho" represents Made-in-Japan (Sushi / Sashimi) Kitchen Knives,
that is the soul of the cook!
~~~~~~~~~~~~~~~~~~~~~~~~~~~~~~~~~~~~~~~~~~~~~~~~~~~~~~~~~~~~~~~~~~~~~
mport Japan.com,Inc.
Florida, USA
Kyoto and Hyogo, JAPAN