The ENTEN Sakimaru Takohiki Sashimi Knife for Left-handed persons is our special order item, which features stylish Arched-shape with rare Ginsan Suminagashi-Damascus texture, which is forged and sharpened carefully one by one by skillful craftsmen in Sakai.
Stylish Arched-Shape Ginsan Damascus Blade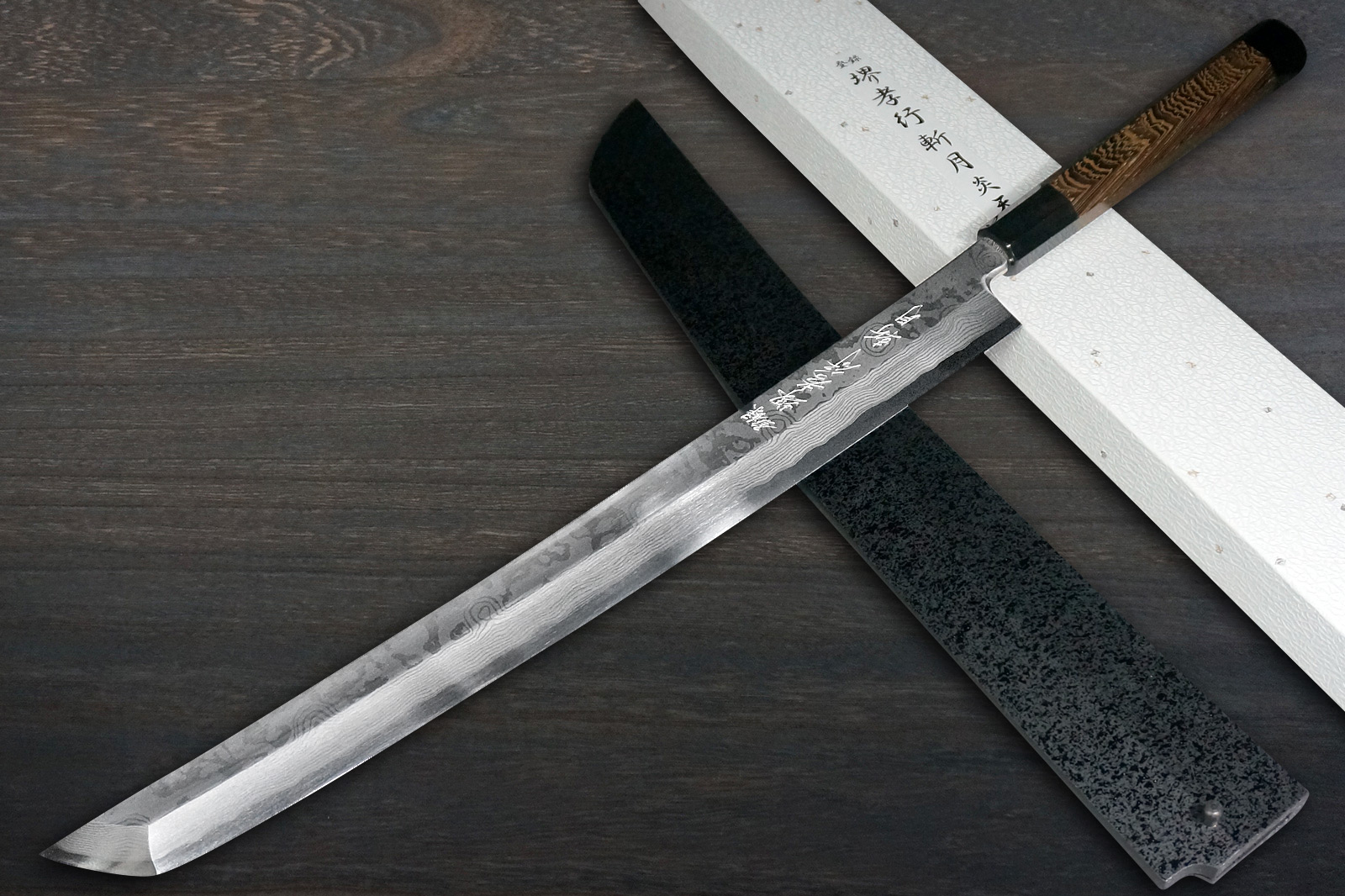 The combination of Ginsan stainless core & Damascus texture & Arched-shape is quite special in addition to the precious handle with double buffalo horn rings. This indicates high level of commitment by the manufacturer for leadership of Japanese style chef knives.
The Ginsan or Silver paper (Gingami) No.3 Steel knives are made of fine Japanese Steel Company Hitachi's Special Stainless Steel which makes similar sharpness, edge retention as Carbon Steel.

Elegant Damascus Surface of ENTEN



Speaking to the special Wenge Wood handle, the Japanese-Style Octagonal figure fits better comfortably to your hand. The Double Buffalo Rings equipped to the handle represent high-quality and excellent durability, that means made for professional originally.

If you have any question, please feel free to contact us anytime.
Thank you for reading and best regards!
All the Hocho-Knife staff
~~~~~~~~~~~~~~~~~~~~~~~~~~~~~~~~~~~~~~~~~~~~~~~~~~~~~~~~~~~~~~~~~~
"Hocho" represents Made-in-Japan (Sushi / Sashimi) Kitchen Knives,
that is the soul of the cook!
~~~~~~~~~~~~~~~~~~~~~~~~~~~~~~~~~~~~~~~~~~~~~~~~~~~~~~~~~~~~~~~~~~
mport Japan.com,Inc.
Florida, USA
Kyoto and Hyogo, JAPAN