RINKA, gorgeously designed chef knife series, is forged and sharpened carefully one by one by skillful craftsmen in Sakai.
On this blade, an historical HAIKU(Japanese seventeen-syllable poem) is specially hand-engraved, "Miru-hito-ni, mono-no aware-wo shirazureba tuki-ya konoyo-no kagami naruramu."
Full-Engraved & Arched Sakimaru Takohiki (390mm)



Sharpness, Soft usage feeling and Unparalleled durability with Rust-resistance supported by the experience through long history.
The blade shows its stylish arched shape, recreating the element of the traditional Japanese swords.

Traditional Hand Engraving



This Ginsan or Silver paper (Gingami) No.3 Steel knives are made of fine Japanese Steel Company Hitachi's Special Stainless Steel which makes similar sharpness, edge retention as Carbon Steel. Sharpness, Soft usage feeling and Unparalleled durability with Rust-resistance supported by the experience through long history.

Full-Engraved Deba Blade 270mm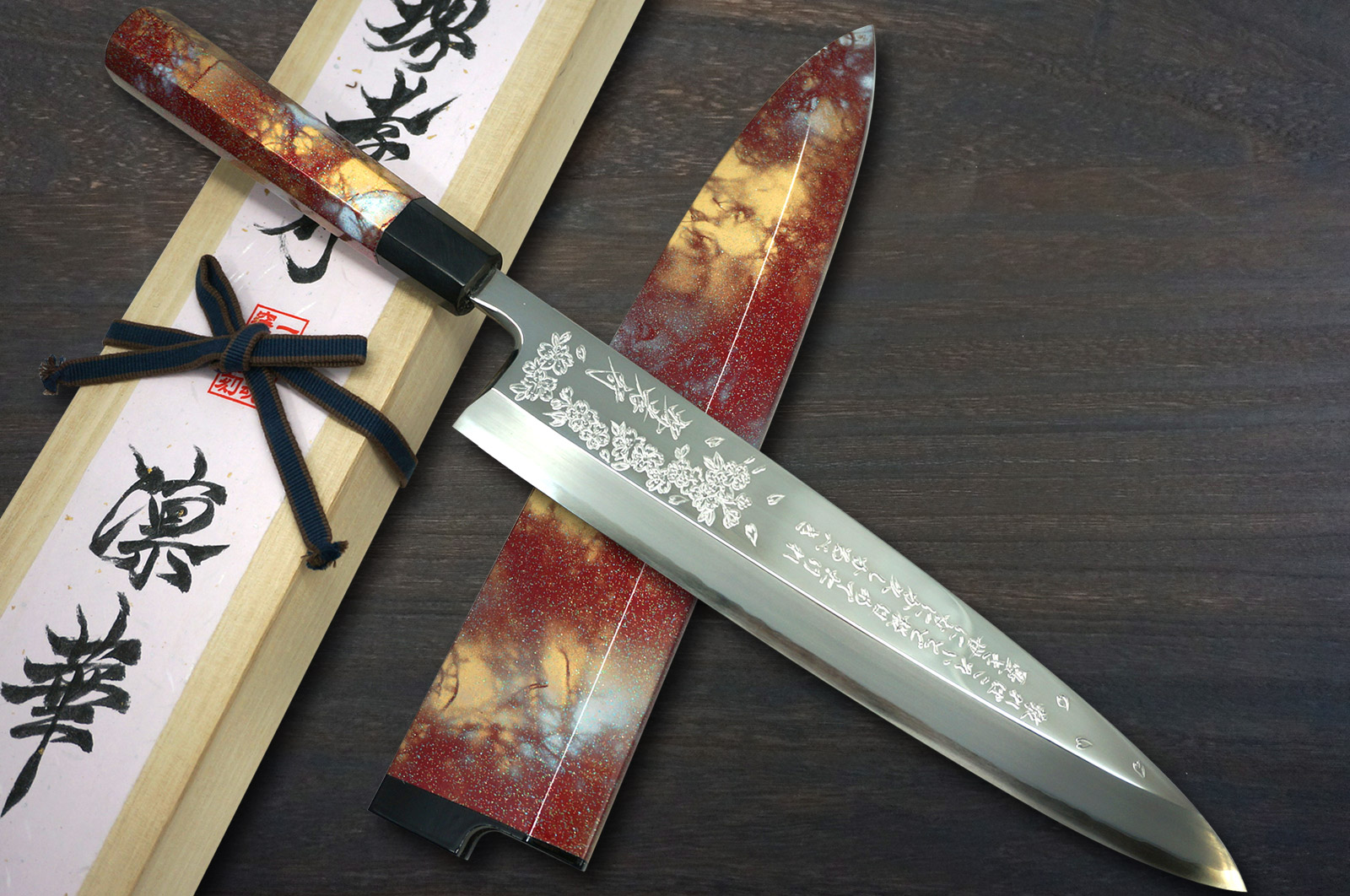 Its stylish arched shape conjures up images of the traditional Japanese swords.

*** Please be noted that it may take a few months to restock if the item should not be available, because this series is made-to-order by skilled blacksmiths.

If you have any question, please feel free to contact us anytime.
Thank you for reading and best regards!
All the Hocho-Knife staff
~~~~~~~~~~~~~~~~~~~~~~~~~~~~~~~~~~~~~~~~~~~~~~~~~~~~~~~~~~~~~~~~~~
"Hocho" represents Made-in-Japan (Sushi / Sashimi) Kitchen Knives,
that is the soul of the cook!
~~~~~~~~~~~~~~~~~~~~~~~~~~~~~~~~~~~~~~~~~~~~~~~~~~~~~~~~~~~~~~~~~~
mport Japan.com,Inc.
Florida, USA
Kyoto and Hyogo, JAPAN