We're pleased to introduce stylish Japanese Aogami (Blue paper) Steel series with super-rare figure made by Sakai Takayuki, one of the cool & popular manufacturer with a long 600-year history by skilled craftsmen in Sakai, Japan.

Kogetsu Gyuto



Hien Kengata-Yanagiba(Sashimi)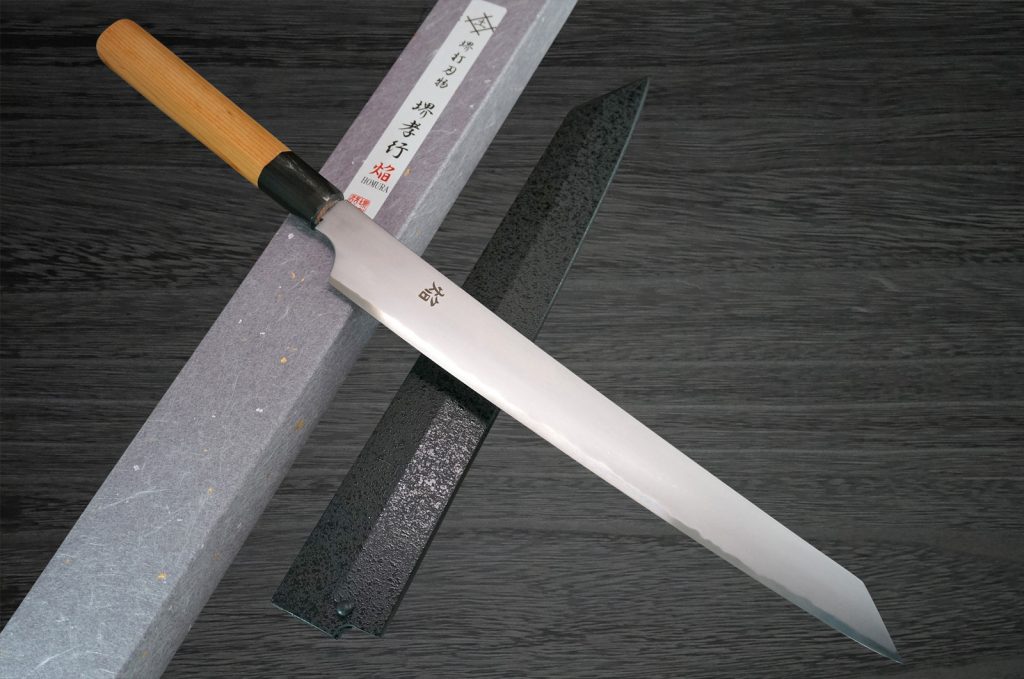 The "Hienn" special knife, recalling a Japanese sword feature, is made by the skilled blacksmith Itsuo Doi. He is a son of legendary blacksmith Keijiro Doi, whose family has produced some of the finest hand-forged knives for more than 70 years.
The Aoko or Blue Paper (Aogami) No.2 Steel Knife is made from famous Yasugi steel, known as prime high carbon steel, specifically developed for tools and knives.
This material has highest wear resistance and toughness because of special hardness. Very good choice for high end Japanese kitchen knives.
The blade is mirror finished like beautiful Japanese sword.
Speaking to the handle, made of Japanese yew (Taxus cuspidata) wood, the Japanese-Style Octagonal figure fits better comfortably to your hand. The Japanese yew wood is dense, hard and beautiful with luster, so that it has been used to make important tools for high-level officials in ancient Japan.
The Buffalo Tsuba with a beautiful copper ring equipped to the handle represents high-quality and excellent durability, that means made for professional originally.
The family emblem of Mr.Doi is engraved as a certification near the logo on the blade.
We recommend this high-class kitchen knife series for professional chefs to enhance their art of cooking as well as for Perfect Gift.
If you have any question, please feel free to contact us anytime.
Thank you for reading and best regards!
All the Hocho-Knife staff
~~~~~~~~~~~~~~~~~~~~~~~~~~~~~~~~~~~~~~~~~~~~~~~~~~~~~~~~~~~~~~~~~~
"Hocho" represents Made-in-Japan (Sushi / Sashimi) Kitchen Knives,
that is the soul of the cook!
~~~~~~~~~~~~~~~~~~~~~~~~~~~~~~~~~~~~~~~~~~~~~~~~~~~~~~~~~~~~~~~~~~
mport Japan.com,Inc.
Florida, USA
Kyoto and Hyogo, JAPAN