Sakai Takayuki Homura Guren series features high quality Kurouchi knives hammer-forged by the skilled blacksmith Itsuo Doi using Blue 2 steel.
Unique but tried and tested profiles, hand hammered finishes, and convex grinds make these lookers as well as performers.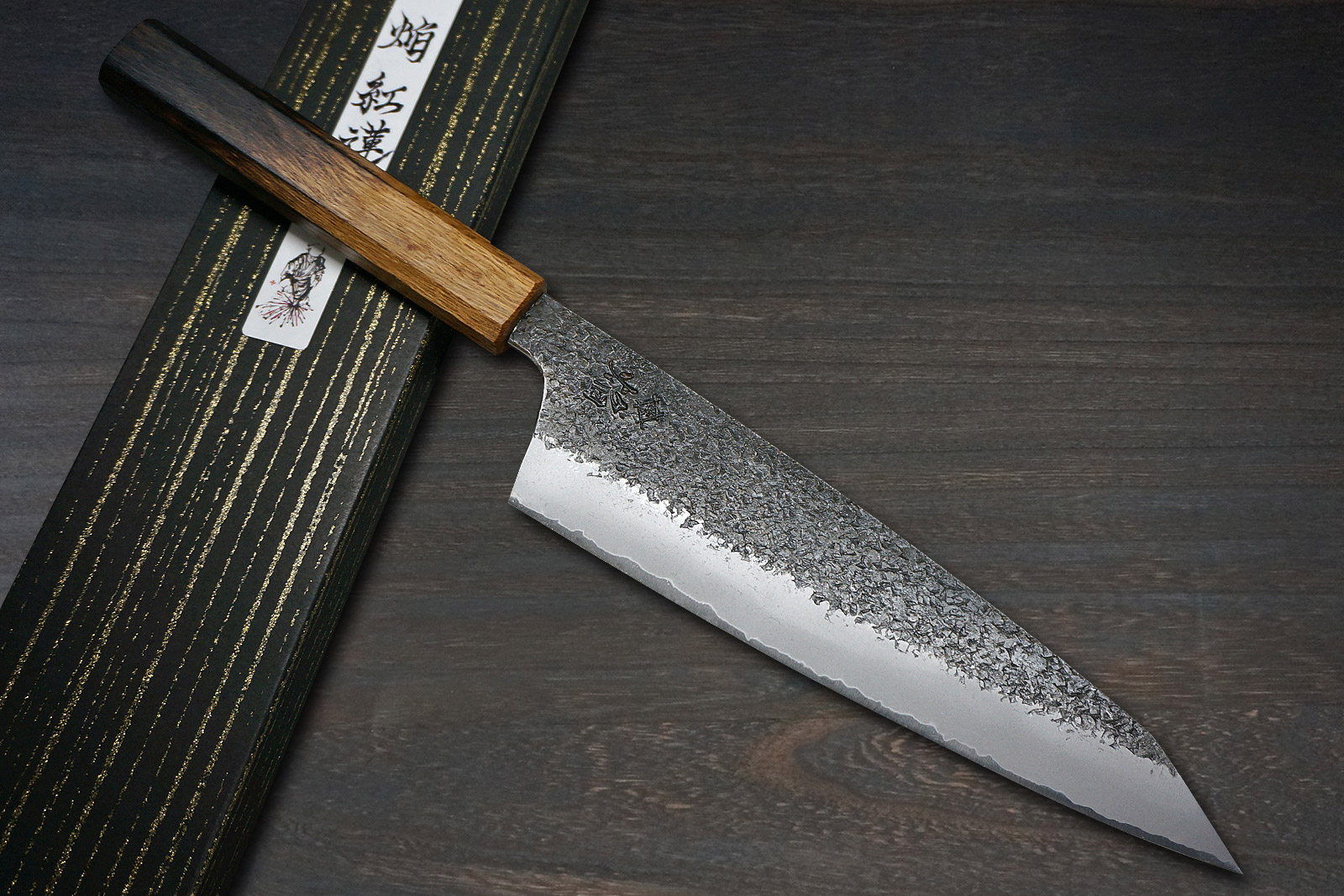 The Aoko or Blue Paper (Aogami) No.2 Steel Knife is made from famous Yasugi steel, known as prime high carbon steel, specifically developed for tools and knives.
This one has highest wear resistance and toughness. Very good steel, and very popular choice for high end Japanese kitchen knives.


Mr. Itsuo Doi is a son of legendary blacksmith Keijiro Doi, whose family has produced some of the finest hand-forged knives for more than 70 years. The family emblem of Mr.Doi is engraved as a certification near the logo on the blade.
Guren or Red Lotus is inspired by the vibrant red flames made by burning fine pine charcoal in the Doi's forge.




We recommend this high-class kitchen knife series for professional chefs to enhance their art of cooking as well as for Perfect Gift.
The stock is extremely limited. Very sorry for the inconvenience in advance if the stock got sold out.

Check the details >>
If you have any question, please feel free to contact us anytime.
Thank you for reading and best regards!
All the Hocho-Knife staff
~~~~~~~~~~~~~~~~~~~~~~~~~~~~~~~~~~~~~~~~~~~~~~~~~~~~~~~~~~~~~~~~~~
"Hocho" represents Made-in-Japan (Sushi / Sashimi) Kitchen Knives,
that is the soul of the cook!
~~~~~~~~~~~~~~~~~~~~~~~~~~~~~~~~~~~~~~~~~~~~~~~~~~~~~~~~~~~~~~~~~~
mport Japan.com,Inc.
Florida, USA
Kyoto and Hyogo, JAPAN