KANETSUNE KC-460 series feature beautiful Damascus-patterned blades with a core of popular Blue Paper (Aogami or Aoko) No.2 Steel for professional which provides excellent edge retention, good for home use as well.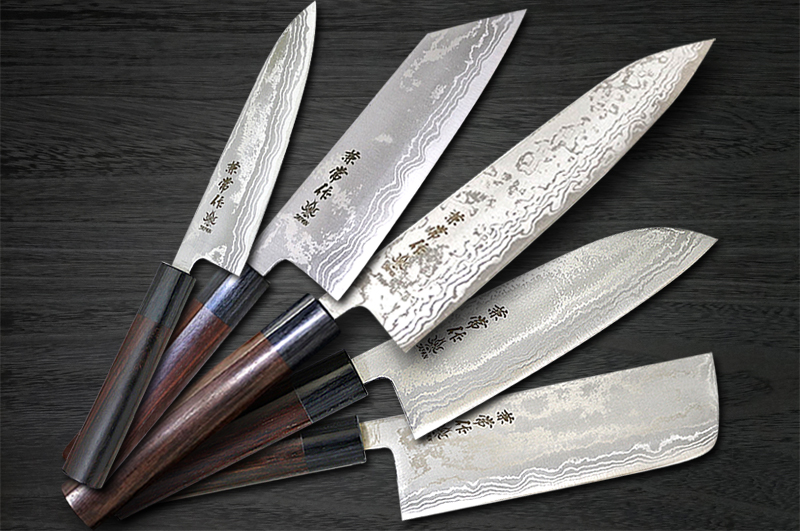 The handle is made of Japanese traditional and beautiful D-shaped Red Sandalwood.

Gyuto (Chef's Knife)



Nakiri (Vegetable knife)



KANETSUNE has been cultivated in the 800-year historical blade capital of SEKI city, Japan. "Seki-den" is the secret method of Japanese sword-making that has been passed down to this present day from 800 years ago. The brand was named after the real well-known master swordsmith "Kanetsune Seki".
If you have any question, please feel free to contact us anytime.
Thank you for reading and best regards!
All the Hocho-Knife staff
~~~~~~~~~~~~~~~~~~~~~~~~~~~~~~~~~~~~~~~~~~~~~~~~~~~~~~~~~~~~~~~~~~
"Hocho" represents Made-in-Japan (Sushi / Sashimi) Kitchen Knives,
that is the soul of the cook!
~~~~~~~~~~~~~~~~~~~~~~~~~~~~~~~~~~~~~~~~~~~~~~~~~~~~~~~~~~~~~~~~~~
mport Japan.com,Inc.
Florida, USA
Kyoto and Hyogo, JAPAN