Some dedicated people who get eager to suddenly start something new like golf, fishing or music tend to procure better tools for their purpose first.

Cooking is not exception.
If you are one of such a maniac of cooking, what do you want to do above all?
Today we introduce one of the premium video specially for you.
Mr. Tokugawa talked enthusiastically about two top Japanese kitchen knives , and finally visited the maker "Aoki Hamono" to meet a masterful blacksmith Mr. Doi for their successful history.
(1) The first is 33-Layer VG10 Damascus Hammered Chef Knife (Gyuto).
The 33-layer Damascus Knives are very beautiful and stylish, crafted out of a 33 layer VG10 damascus steel, upper grade than 17 layer version.


These knives have a seriously sharp edge, extremely hard (HRC: 60), excellent edge retention and a light center balanced feel.
The handles on these knives are hand crafted out of Mahogany wood, which is water resistant and beautifully grained.
(2) The second is Homura Premium Chef's knife (Gyuto).
The Homura Aoko is made by the skilled blacksmith Itsuo Doi. He is a son of legendary blacksmith Keijiro Doi, whose family has produced some of the finest hand-forged knives for more than 70 years.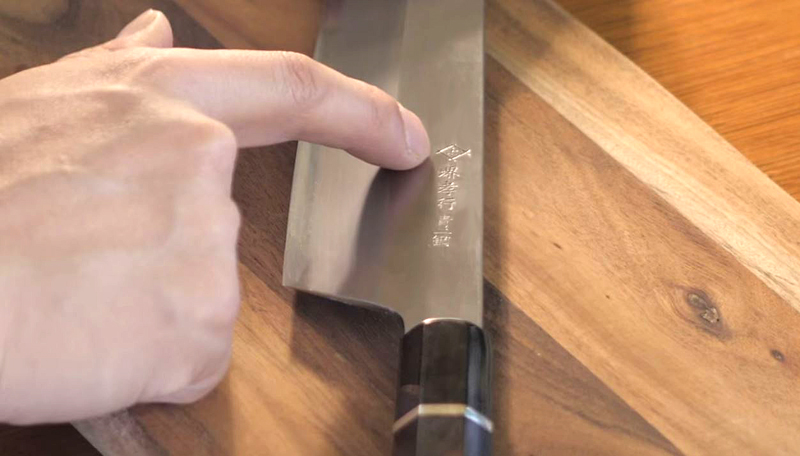 The Aoko or Blue Paper (Aogami) No.2 Steel Knife is made from famous Yasugi steel, known as prime high carbon steel, specifically developed for tools and knives.
This one has highest wear resistance and toughness. Very good steel, and very popular choice for high end Japanese kitchen knives.
One of the best kitchen knife with more excellent durability of sharpness with special hardness like New Ceramic . We recommend any professional chef to use the one in their life.
Speaking to the Ebony Wood handle, the Japanese-Style Octagonal figure fits better comfortably to your hand.
The Buffalo Tsuba with a beautiful copper ring equipped to the handle represents high-quality and excellent durability, that means made for professional originally.
The family emblem of Mr.Doi is engraved as a certification near the logo on the blade.
We recommend this high-class kitchen knife series for professional chefs to enhance their art of cooking as well as for Perfect Gift.
If you have any question, please feel free to contact us anytime.
Thank you for reading and best regards!
All the Hocho-Knife staff
~~~~~~~~~~~~~~~~~~~~~~~~~~~~~~~~~~~~~~~~~~~~~~~~~~~~~~~~~~~~~~~~~~
"Hocho" represents Made-in-Japan (Sushi / Sashimi) Kitchen Knives,
that is the soul of the cook!
~~~~~~~~~~~~~~~~~~~~~~~~~~~~~~~~~~~~~~~~~~~~~~~~~~~~~~~~~~~~~~~~~~
mport Japan.com,Inc.
Florida, USA
Kyoto and Hyogo, JAPAN