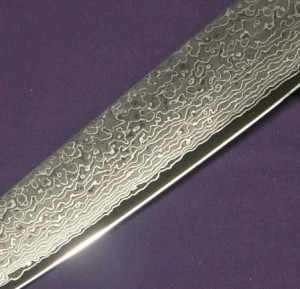 This is a good and very essential question.
Some like Damascus knives because of the aesthetic value for their gift, collection and cooking before people.
If you personally like the Damascus pattern very much, we recommend one of the beautiful Damascus knives.
From a view of strength and durability, such a multi-layer structure as Damascus can not simply be said "no meaning".
Before discussion of Damascus, we have to start from the benefit of multi-layer blades. The benefit of the sandwiching structure is to strike a balance both the harder & sharper edge and better durability of the entire blade.
The most simple multi-layer blades have a three layer structure, made of a hard steel core that is sandwiched by soft (resilient) steel so that the hard core is exposed only at the cutting edge. That realizes better durability or chip-resistance.
* Hard steel core is generally easier to be chipped, that's why the sandwich structure can be a good solution.
** If the core is not stainless (like high carbon steel) covered by stainless steel layers on both side, the blade totally get good rust-resistance as well as chip-resistance.


One of the applied approach of the multi-layer blades eventually leads to a Damascus pattern. Therefore, such a multi-layer structure can not simply be said "no meaning" from a view of strength and durability.
***Be careful that there exist blades which have damascus pattern to the end of the cutting edge. Such a knife has just aesthetic value without the above benefit of the sandwich structure.

Many sandwich outer layers covering the center core realize the unique Damascus pattern for each knife. You can get only one design of the blade in the world. Therefore Damascus knives are much recommended as a gift as well as just for better cooking experience. One demerit of the Damascus knives is the cost because of additional production process.
Needless to say, it's important to know what materials are used as the core and sandwich layers first.
FYI, the core is sometimes not a simple high carbon steel but VG-10 or SG-2 and so on. We think they are excellent materials for a sharp knife.
Does that answer you?
We hope the above would assist you.
If you have any question, please feel free to contact us.
Thank you for reading and best regards!
All the Hocho-Knife staff
~~~~~~~~~~~~~~~~~~~~~~~~~~~~~~~~~~~~~~~~~~~~~~~~~~~~~~~~~~~~~~~~~~~~~
"Hocho" represents Made-in-Japan (Sushi / Sashimi) Kitchen Knives,
that is the soul of the cook!
~~~~~~~~~~~~~~~~~~~~~~~~~~~~~~~~~~~~~~~~~~~~~~~~~~~~~~~~~~~~~~~~~~~~~
mport Japan.com,Inc.
Florida, USA
Kyoto and Hyogo, JAPAN