Recently, a customer asked us,
"I want an all purpose knife and which i don't have to sharpen regularly. Can you please advice. I cut vegetable chicken and mostly cooked meat at times de boning chicken."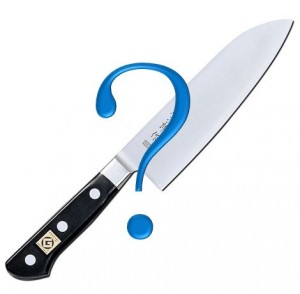 Of course the question is very good and natural.
The customer needs just a knife for both all purpose and for de boning.
But….. to meet the both the two goals, it is thought that he does not have enough choice.
If he can allow to have two or three different-type knives, we believe he would have a greater range of choices as follows,
(1) For the first goal (all purpose)
We recommend "Santoku" type, that is the representative of all purpose knives (but not to chop something hard like bones)
If you do not take care of your knives regularly, the material should be "stainless".

(2) For the second goal (de boning)
You know, the boning knives are available as the below,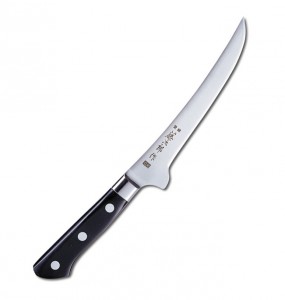 (3) If you have to cut such a hard thing, it is better to use a special knife for cutting bones and frozen food.
Please refer to the following page,
http://www.hocho-knife.com/frozen-food-knife-reito/
We're afraid that we do not recommend to chop something hard like bones and frozen food by such a normal knife,
as written in the FAQ (Q. Is there a lifetime warranty for kitchen knives ?)
http://www.hocho-knife.com/faq/
We hope the above would assist you.
If you have any question, please feel free to contact us.
Thank you and best regards !
All the Hocho-Knife staff
~~~~~~~~~~~~~~~~~~~~~~~~~~~~~~~~~~~~~~~~~~~~~~~~~~~~~~~~~~~~~~~~~~~~~
"Hocho" represents Made-in-Japan (Sushi / Sashimi) Kitchen Knives,
that is the soul of the cook!
~~~~~~~~~~~~~~~~~~~~~~~~~~~~~~~~~~~~~~~~~~~~~~~~~~~~~~~~~~~~~~~~~~~~~
mport Japan.com,Inc.
Florida, USA
Kyoto and Hyogo, JAPAN